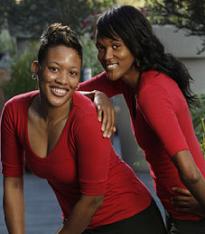 by Gina Scarpa
Never, in the history of The Amazing Race, has a team gone out quite like Jen and Kisha did this season.  After overcoming several obstacles, such as an extreme fear of water and a U-Turn, Jen and Kisha fought their way back and ended up in a foot race with Jaime and Cara for third place.  Jen, however, drank a bit too much water in an eating challenge and needed to stop for a bathroom break at the pit stop.  That stop ended up costing them the race and, possibly, a million dollars.  This week, the sisters spoke to RealityWanted in an exclusive interview.  Read on to find out if they feel that Jen's bathroom break was worth giving up a chance at one million dollars.
Q. Gina, RealityWanted: Whose idea was it to try out for The Amazing Race this season?
A. Jen: It was actually my idea.  I've been a fan of the show.  I volunteered my sister to join me on the race.  She had no clue what it is.  She has one channel, TNT, because Law & Order plays 22 hours out of the day on it.
Q. Gina, RealityWanted: Kisha, did you have any reservations about going on the show?
A. Kisha: I had some reservations.  I'm a private person.  I work, I coach, and I'm okay with my every day life.  Once I actually watched the show, I got excited about it.  It was interesting.  It was a once in a lifetime chance. 
Q. Gina, RealityWanted: We didn't really see you guys aligning with other teams on a regular basis.  Did you work with other people or did you go into the race looking to rely only on each other?
A. Kisha: I definitely feel that we were more focused on each other.  If there were gonna be instance where we could share information, we would but forming an alliance was not part of our plan.
Q. Gina, RealityWanted: A few episodes ago, tensions really started to boil over between the two of you and Margie and Luke.  Was there something leading up to that that we didn't get to see or did it seem to come out of nowhere?
A. Kisha: It just happened.  We were really shocked.  We had those two altercations.  At the end of the leg, we were over it.  For them to explode on the mat like that, we were shocked and disappointed.  Even at the end of it, we were over it.  Things happen in a competition.  Let's move on.
Q. Gina, RealityWanted: This race certainly challenged you guys on many levels.  Would you say that the swimming challenge in China was the toughest for you?
A. Jen: Yes, as far as mentally and physically, that was one of the challenges that tested my limits.  At that moment, it became bigger than: what would you do for a million dollars?  For me, I think of drowning.  It was a matter of life and death.  I know that sounds really harsh but that's the way I think of it. 
Q. Gina, RealityWanted: Is there anything that you've seen, when you watch the episodes back this season, that has surprised you?
A. Kisha: I'm surprised that Margie and Luke still held a grudge against us in the last couple of episodes.  Other than that, I've been having a good time watching the episodes. 
Q. Gina, RealityWanted: Tammy and Victor said last night that they U-Turned you guys because they couldn't beat you in a foot race?  Do you believe that or were they just protecting their alliance?
A. Jen: I'm actually 50/50 on that.  It was a strategic move on that because they don't know what's ahead.  Sure, people might think it took the fire away if Margie and Luke had gotten there.  Of course they would've U-Turned us.  It can be perceived different ways, definitely.
A. Kisha: If it was another team that was also quick, that they had a better alliance with, they wouldn't have done the same thing but it's just one thing you never know.
Q. Gina, RealityWanted: Exactly how far behind Jaime and Cara were you at the pit stop on last night's episode?
A. Kisha: No, we still have no concept of time.  We're pretty sure it was just minutes.
Q. Gina, RealityWanted: Do you guys have any regrets?
A. Jen: From a woman's standpoint, you can completely understand that you might have to tinkle a little bit.  When it comes to the point of being painful, you have to use the bathroom!  The taxi driver dropped us off in the back.  I don't regret peeing at all! 
Be sure to tune in to the season finale of The Amazing Race, Sunday at 8pm ET on CBS.
(Image courtesy of CBS)
For more Amazing Race Links Visit Sirlinksalot.net