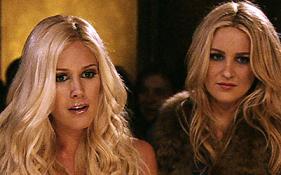 by Natasha Karaczan
In the first few minutes of The Hills, we learn that Stephanie is trying to convince Lauren to get her an interview for an internship position that opened up at People's Revolution. I'm surprised that Lauren gives in and actually set up the interview with Kelly Cutron. In what world does she think Stephanie can handle Kelly? Kelly is the toughest person to work for in the entire fashion industry.

The interview was by my favorite part of the entire show. Stephanie hands over her resume and then proceeds to tell Kelly that she wants to work for her so she can get the experience she needs to start her own handbag line. Kelly then completely calls Stephanie out. She asks Stephanie why she would hire her if Stephanie is just using her as a means to an end. For once, Stephanie was speechless. Kelly then says that being nervous, crying or screwing up is not allowed in her office. If that's the case Stephanie should not have even walked through the door. She cowers and practically bursts into tears whenever anyone calls her out on her drama. All I can say about Kelly giving the position to Stephanie is that it will make for fabulous TV.

Now onto the reason we all really watch The Hills: Heidi and Spencer. Spencer decides to go bar hopping with his friend Charlie to get back at Heidi for hanging with her ex Colby. Heidi and Stephanie then find him with the bartender Stacey and immediately start calling him out for being a jerk. The part that upset me was that Spencer was the one who was in the wrong, yet Heidi and Stephanie start calling Stacey a whore and a home wrecker. Yes, it was wrong for Stacey to go out with Spencer, but Spencer is the one in the relationship. It is his job to stay faithful Heidi. It bothers me that once again Spencer managed to avoid taking the blame for his actions.

In the final moments it seems as their love affair has come to an end. Heidi says that they need to see a relationship counselor or it's over. We then find out that Stephanie has seen a counselor to deal with her issues. (Um, I think she should get her money back because that girl still has a ton of problems!) It seems Spencer is reluctant to get on board with the idea, but in a preview for next weeks episode we see that he gives in.
To see more drama, check out The Hills Monday nights at 10pm only on MTV.
(Image courtesy of MTV)
For more The Hills links visit Sirlinksalot.net