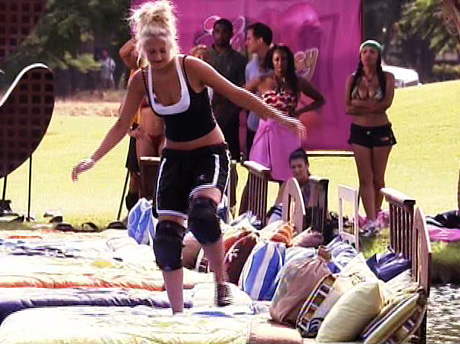 By Jackie Helm
Bed hoppin' is never smart but it was the challenge of the day.  Several beds were afloat in a pond in the middle of a golf course.  The players had to leap from bed to bed to retrieve two bags of money and get them back to shore before the clock reached 5 minutes.  The competitor with the quickest time became Paymaster!  The competitor with the slowest time automatically became one of three people up for elimination!
 
20-Pack finally made a comeback due to his athletic ability and accomplished the task in an astounding 26 seconds.  Poor Frenchie fell into the water twice, exceed the time limit and became the player up for elimination.
 
Every genius with dollar signs for eyes had an opinion on who should do what.  But of course, the most noise was coming from Buckwild and Saaphyri.  The players met Craig in the vault and were geared up to vote one another into the last two spots for eliminations.  WAIT – Buckwild and Saaphyri think they can stall the voting and exceed the 15 minute time limit to vote!  Buckwild had some balls as she threw water all over Myammee.  We all know Myammee protects her weave like it's her first born!  All Myammee managed to do was get her hand over Buckwild's face before the production crew stepped in.  Craig wasn't having it!  He stopped the clock and called order to the mayhem.
 
BUT Buckwild and Saaphyri had yet another plan!  Despite the clock being stopped; suddenly Saaphyri fainted.  The scene continued as Buckwild began crying over Sapphire's fainted body.  They wobbled to their room and laughed their arse's off.  Medics were summoned and Buckwild suggested that Saaphyri be taken to the hospital.  But once Saaphyri saw needles she said she "was fully recovered". 
 
Once the curtains went down on the drama, the vault activities continued.  Craig called out names one by one.  Naturally, Buckwild and Saaphyri wound up receiving the most votes.  They joined Frenchie in the bottom three.
 
The last of 20-Pack's alliance was up for elimination and he was the Paymaster.  During the Power Outing 20-Pack reluctantly grilled his friends.  Frenchie professed her undying dedication to 20.  While Buck and Saaphyri swore that their two heads were better than one.  They ate, drank and chatted but it was still unclear on exactly who 20 would send home. 
 
Before eliminations, Tailor Made guaranteed support from his alliance if 20-Pack got rid of Buckwild.  He made a good point that she had offended nearly everyone in the house.  But 20 wasn't immediately sold on the idea.
 
During eliminations 20-Pack shed his manly tears as he was faced with the task of sending one of his friends home.  He asked Buckwild to approach him and said, "Here is your check…that I have to stamp VOID!"  Ah ha ha ha ha ha!  The look on her face was priceless!  Even Tailor Made was surprised and said it was the first time that he didn't hear Buckwild say ish! 

Buckwild sobbed to the camera about how hard she tried and then went on to curse everyone left in the house.  Has anyone ever told this girl you can get more bee's with honey!  Anyway, 20-Pack reminded Frenchie that when she was Paymaster he had to kiss her in order to stay.  So now, for her to stay she has to NOT kiss him unless she becomes paymaster again!  She agreed but later admitted she was going to kiss 20 anyway!
 
Ice, Tailor and It' sported Ed Hardy at the end of the show and I wonder if it was a coincidence or a commercial!  See you next week!
(Photos Courtesy of VH1)

For more I Love Money 2 links visit sirlinksalot.net