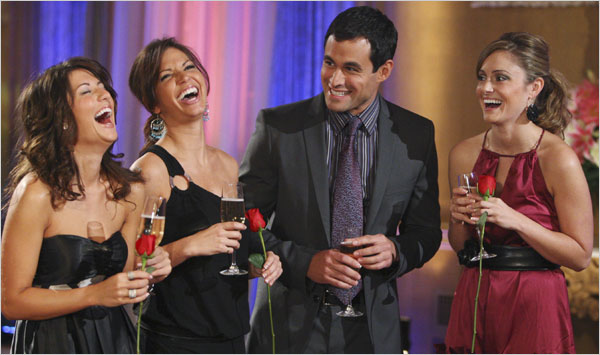 By:  Mary Cavaliere
The show started with a review of Jason's journey with each of the three finalists (Jillian, Molly, and Melissa). It continued with their trip to New Zealand where each girl participated in an individual fantasy date with Jason and the potential to stay overnight with him.
Jillian's date started out with a helicopter ride and a picnic lunch with a panoramic view of New Zealand. Jillian accepted the overnight invitation from Jason. In the Jacuzzi the passion ensued and both admitted to falling in love with each other.
Molly's date started out under an umbrella in the rain and moved to bunji jumping off a bridge. Yikes! At lunch afterwards Molly had a list of quirky and cute questions for Jason like what is your favorite ice cream, holiday, etc. There were some moments of awkwardness during dinner though, as it seems Molly has a difficult time showing her feelings. Once she started to drop the wall a bit more Jason was once again reeled in. Jason never got to ask her to stay overnight as Molly extended the offer to Jason first.
Melissa's date started on a river boat that used to be Winston Churchill's. From there the date continued in a hot tub, and another conversation about not meeting her parents arose. But the night ended up on a high, especially for Jason, because Melissa was the only girl so far who told him she loved him.
Afterward Jason got to view three individual videos created by the girls expressing how they felt about him. Jillian I believe made the mistake of saying "I'm crazy about you" whereas Molly finally admitted "I'm madly in love with you" and Melissa reiterated "I miss you and I love you". I think it was obvious that Jillian would be the next one to depart. While Jason was walking her out she told him she was in love with him but I think it was too little too late.
Next week unfortunately is not the finale where we get to see if Jason chooses Molly or Melissa. It is a reunion show with all the girls who were sent home to date. The finale is expected to be a dramatic one because of Deanna's re-entrance into the picture, but honestly I just don't see Jason lowering himself to allowing her back into his life at this point in time.
You can read more of Mary's television blogs at
www.myspace.com/italiangirl57


For more Bachelor Links visit Sirlinksalot.net