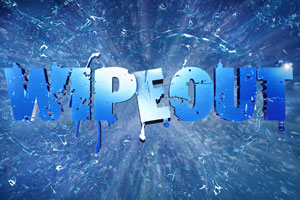 "Episode 103" -- Donut Run, Crazy Beams, Pole Vault, the Toothbrush Sweeper, Big Balls, Launch Pads and Sucker Punch are among the over-the-top obstacles included in this week's episode of "Wipeout," the wildest series on television featuring the world's largest obstacle course. Hosted by John Anderson (ESPN's "SportsCenter"), John Henson ("Talk Soup") and co-hosted by Jill Wagner, "Wipeout" airs SUNDAY, FEBRUARY 1 (8:00-9:00 p.m., ET) on the ABC Television Network. (Rebroadcast. OAD 7/8/08)

Each week 24 new contestants of all ages, shapes and sizes will go head to head through four rounds of grueling and physically demanding obstacles to battle for the title of "Wipeout Champion" and the grand prize of $50,000. Not only do the contestants change every week, so does the course. In the end, only one contestant will win, while everyone else will Wipeout!

Contestants this week include an ice cream scooper, a nanny, a fitness model, a performance artist, a funeral home counselor, a Taw Kwon Do instructor, a registered nurse and a bartender.

For more on "Wipeout," fans can go to ABC.com to create their own mash up videos from different participants' mishaps for the ultimate wipeout. Viewers can also see highlights and the best wipeouts from previous episodes each week. In addition, ABC.com will feature a five-part series of classic wipeouts from other ABC series, for example "Ugly Betty's" Betty Suarez inadvertently walking into the glass wall her first time at Mode.

Executive producer is Matt Kunitz ("Fear Factor"). Co-executive producers are Scott Larsen and Shye Sutherland.

"Wipeout" is produced by Endemol USA. David Goldberg is the president of Endemol USA, a leading producer of television programming specializing in reality and non-scripted genres for network and cable television. The company produces the break-out hits "Deal or No Deal," "1 vs 100," "Fear Factor," "Extreme Makeover: Home Edition" and "Big Brother." Endemol USA is a division of Endemol Holding, a prominent international content developer, producer and distributor of television and online programming. The company, headquartered in the Netherlands, has subsidiaries and joint ventures in 21 countries, including the major European markets, the U.S., South Africa, Argentina, Brazil, Mexico and Australia. Endemol Entertainment is a fully owned subsidiary of telecommunications giant Telef—nica S.A., one of the largest companies in Spain.

"Wipeout" is broadcast with Spanish subtitles via secondary closed captioning. This program carries a TV-PG,L parental guideline.
(Photo courtesy of ABC)