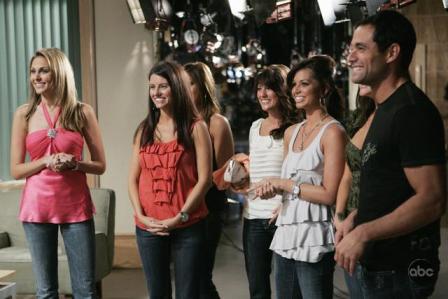 Lots of Tears And Drama On The Bachelor
By: Mary Cavaliere
This week started out kind of fun with the girls competing for a one-on-one date with Jason.  They each had to write and perform an original song for him, but with only thirty minutes to prepare.  It wasn't an easy feat but some of the girls pulled it off really well.  Nikki went all emotional again because she didn't want to participate.  In the end she sang a lullaby to the child she hopes to have someday, which I thought was kind of strange.  It was supposed to be a love song to Jason!  She just proved further that she doesn't belong with Jason because he isn't going to mesh with someone that high-strung.  Shannon just copied what Jason did for Deanna last season so I didn't feel she deserved to win the date (plus she's just creepy in general).  Lauren was right, she did have the best song, but obviously Jason wanted to spend some alone time with Molly so he found a reason to make her the winner. 
The one-on-one date wasn't big or fancy, it was just Jason and Molly chillin' out for the night and Molly seemed pretty comfortable with that scenario.  They camped out for the entire night and Molly didn't go back to the house until morning.  The girls freaked out when Molly left, and they really freaked out when she returned the next morning in Jason's clothes with a rose.  You go girl!
The group date was one that I would have found exciting.  Six girls (Shannon, Naomi, Melissa, Jillian, Megan, and Lauren) were taken to the set of General Hospital where some of them got to act out their kissing fantasy with Jason.  Shannon was creepy as usual and Megan took advantage of the situation and landed a passionate kiss on Jason that he will not soon forget.  I felt bad for Melissa.  She is one of my favorites, and she was not one of the girls who got to kiss Jason.  She just had to sit by and painfully watch all the others.  Ouch.
After their General Hospital shoot the girls got to go to a wrap party and that's where the drama really started.  There were lots of tears, and a threat from Lauren that if she didn't get a rose, she'd be pissed which, in my opinion, was a huge mistake.  Jason is a pretty confident guy and being pushed around by a woman is not something he'd be comfortable with.  I'm glad Melissa got to spend some time with him and he was able to make her feel better about what she witnessed all day.  Of course I'm not sure how long it lasted when he handed the group date rose to Naomi.  Naomi Jason?  Really?  Grrrrrrrrr………….
The two-on-one date was with the remaining two ladies, Stephanie and Nikki.  Nikki got emotional AGAIN when she found out she had to compete with Stephanie because she knows Stephanie has that single-parent bond with Jason she doesn't have.  It didn't matter to me which one got the rose because I don't feel either is for Jason.  I think Stephanie could have her pick of men in the real world.  She is beautiful and smart and sweet and kind and a wonderful mother.  As for Nikki, until she learns how to let go and stop trying to control everything in her life, she will continue to have relationship problems. No matter how beautiful she is, and she is gorgeous, men will not hang around for the long-term.  How do I know?  Because I used to be just like her.  I was never a perfectionist about my looks (that would have been a waste of time) but I was a perfectionist when it came to my house, my kids, my relationships, and my career, and I can tell you it is exhausting for a partner to deal with.  Thank God I got off THAT train! 
The rose ceremony was again shocking but I was cheering for Jason when it was over.  Finally!  He's seeing that some of these girls are just not for him.  He sent home Shannon, Megan, and Lauren who "just wants to be famous".   I hope she doesn't expect to do it with her SINGING.
Here are the 5 ladies remaining fighting for their man:
Jillian – Restaurant Designer
Melissa – Sales Representative
Stephanie – Medical Marketing
Naomi – Flight Attendant
Molly – Department Store Buyer
Personally I think the battle will be between Melissa and Molly, but so far Jason has not chosen the way we thought he would, so we'll just have to see what happens!
You can read more of Mary's television blogs at www.myspace.com/italiangirl57
 
(Photo courtesy of ABC)
For more Bachelor Links visit Sirlinksalot.net