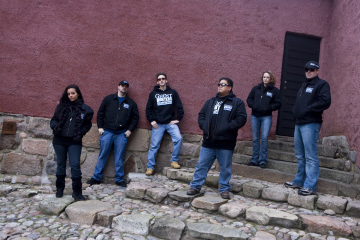 Ghost Hunters International (GHI) "A Call For Help"
Trekroner Fort – Copenhagen, Denmark

A great old fortress on an island always creates a classic haunted tale.  Definitely one of those sites that you wish you can visit.  The team seemed to get a continuous stream of readings on the EMF detector in response to their questions during the investigation.  Someone or something was trying to communicate with them throughout the night.  An EVP recorded what was called a whistle by the team but it seemed like a dog whimpering to me.  Allegedly some viewers saw a dog when this EVP was recorded.  Why the team or producers did not double check the video footage at the time when the tracked the EVP is beyond me.  Let's call it the Ghost Dog.  GHI called the fortress haunted and it's hard to argue based on their results from one night of research.  This fortress would make for a great follow-up investigation.

Casa Garland – Lima, Peru
The GHI team took the time to investigate an another old house in a busy city area where it's often hard to decipher what's natural and what might be someone from the other side trying to communicate.  Not many personal experiences were recorded and the team had no evidence from their long nights work to call the Casa Garland haunted.  If anything, the family living there can sleep a little better, they did get on TV.

Team Comments:
Is Brandy wearing too much blue eye make-up for her own good?  If you watched your answer would be yes.
Angela still has the sexier outfits and Kris, from Ghost Hunters, needs to take notice. 
While on the topic of Angela, she's becoming a better interviewee during the investigation.
The team itself is still a little boring.  If they don't get Josh Gates, from Destination Truth to do a guest appearance, the viewers are going to start falling asleep.  Josh Gates is exactly the kind of personality needed to get them through the episodes where nothing is going on.

Story by: Chad Alan
(Photo courtesy of Sci Fi)
For more Reality Television Links visit Sirlinksalot.net