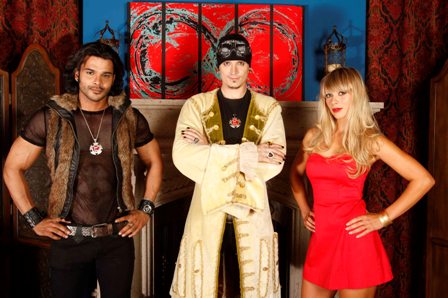 Mystery's Wing-Man Matador and New Wing-Girl Tara Attempt to Instill Confidence in Their Protégés
"The Pickup Artist 2" Premieres on VH1 on Sunday, October 12 at 10:00 PM*

SANTA MONICA, CA, Sept. 23, 2008 -- Based on the tremendous viewer response to the series "The Pickup Artist," VH1 has once again teamed up with world renowned pickup guru Mystery to help guide nine new "socially awkward" students overcome their biggest fears - meeting women.  As we saw last season, Mystery has developed a foolproof formula for these men to follow, whether they're in a bar, club or coffee shop.  Through his various teachings and in-the-field tests, Mystery will prepare these men with the skills they need to overcome their shyness and confidence issues in the real world.  "The Pickup Artist 2" premieres on VH1 on Sunday, October 12 at 10:00 PM*
"The Pickup Artist 2" brings a new twist to the show, as Mystery and Season 1 wing-man and fellow pickup artist Matador are joined by new wing-girl Tara. Viewers may remember Tara as Season 1's kissing coach.  In this second season she will expand her role by adding a female perspective. Tara will serve as full time wing-girl to Mystery and act as a confidant for the contestants. 
This season, "The Pickup Artist 2" moves to Phoenix, AZ, as the guys sample the local night life in hopes of perfecting their skills and winning the title of "Master Pickup Artist."  In each episode, one contestant will be declared the winner of a challenge and granted immunity from elimination, while the loser will be sent packing.   The challenges this season are even more intense -- and personal.  The dating neophytes will be tested in a local supermarket, a charity auction and various area nightclubs outfitted with hidden cameras that capture women's real responses to the contestants' come-ons.  
"It's certainly no mystery why we've partnered again with Mystery.  He already had a legion of followers from his book when we launched 'The Pickup Artist' series last year, and now he's grown into a pop culture phenomenon. He's even been parodied on 'Saturday Night Live' – a true indicator of water cooler buzz,'" said Jeff Olde, Executive Vice President, Original Programming & Production.
 
"This series is so much more than just how to pick up a woman.  It's about instilling confidence in these young men.  As each week goes by, you cheer on this crew of socially awkward men who ultimately flourish with some hard observations of themselves, gut-wrenching experiences in the field and even a little TLC." 
In the end, only one guy will remain and be worthy of the title "Pick-Up Artist."  Whoever claims this title will also win the cash prize of $50,000 to use towards his new social life.   Catch "The Pickup Artist 2" on VH1, premiering Sunday, October 12 at 10:00 PM*
For more information on "The Pickup Artist 2," please log onto http://www.VH1.com.
"The Pickup Artist 2" is a production of VH1 in conjunction with 3 Ball Productions. JD Roth, Adam Greener and Todd Nelson are executive producers for 3 Ball Productions.  Jeff Olde, Jill Holmes and Noah Pollack are executive producers for VH1.
VH1 connects viewers to the music, artists and pop culture that matter to them most with TV series, specials, live events, exclusive online content and public affairs initiatives. VH1 is available in 95 million households in the U.S. VH1 also has an array of digital channels and services including VH1Classic, VH1 Soul, VH1 Mobile, VH1Games and extensive broadband video on VH1.com. Connect with VH1 at VH1.com.
* All times ET/PT
(Photo courtesy of Vh1)