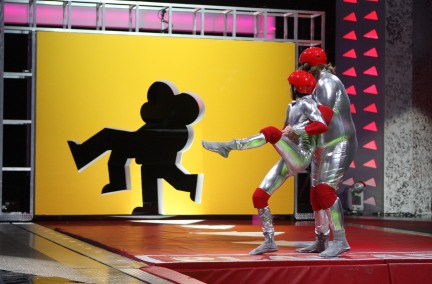 HOLE IN THE WALL, the body-bending, mind-twisting, global game show phenomenon from AMERICAN IDOL producers FremantleMedia North America, will premiere Thursday, Sept. 11 (8:00-9:00 PM ET/PT) on FOX.

HOLE IN THE WALL became an instant ratings success story on-air and online after launching on Japan's Fuji TV in July 2006, where it continues to rank No. 1 in its timeslot. The format swiftly created waves around the world, with FremantleMedia currently producing versions in Argentina, Australia, Brazil, China, Colombia, Denmark, Germany, Hong Kong, India, Israel, Malaysia, Mexico, Russia, Sweden and the U.K.

Hosted by Brooke Burns ("Dog Eat Dog") and Mark Thompson ("Guinness World Records: Primetime"), HOLE IN THE WALL is one of the trickiest, fastest, funniest and wettest shows on the planet where speed, agility and a hearty sense of humor are essential tools to survive. During each episode, two teams of three compete against each other in multiple rounds of play, facing various barrier walls speeding toward them with weird and wacky cut-out shapes. Each team must contort their bodies individually or in unison to fit through the wall or be swept away into a pool below. As players struggle to strike a pose, points – and dignity – can be easily lost with a simple miscalculation. As the rounds progress and the pace heats up, mind over matter, quick thinking, coordination, agility and clever teamwork play a crucial role as each team strives to maneuver through walls literally closing in on them. The team with the most points at the end of the competition will win $25,000 and the chance to face the dreaded "Blind Wall" for the opportunity to win an additional $100,000.


HOLE IN THE WALL is produced by FremantleMedia North America. Stuart Krasnow is executive producer.