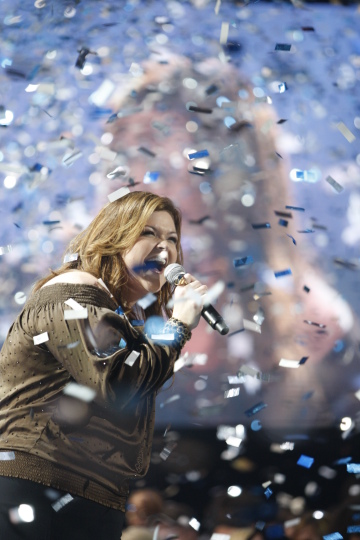 On Monday, August 4, Melissa Lawson was crowned the latest "Nashville Star" -- wrapping up NBC's dramatic first season of the popular talent search. The 32-year-old Lawson, an Arlington, Texas native and mother of five boys, took the prize over fellow Texan classic country singing Gabe Garcia and Iowa's country rock and blues-belter Shawn Mayer in a live broadcast.

The show culminated with Lawson performing her debut single (produced by John Rich), which will be released to country radio tomorrow (August 5). Additionally, Lawson won a record contract with Warner Bros. Records, their debut album produced by John Rich, and will perform live from the Summer Olympics in Beijing on August 12, to be telecast on NBC's "Today."

During the season's final broadcast, all of the original 12 acts that began the competition in June returned to the Acuff Theater to join host Billy Ray Cyrus in a performance of his hit single "Achy Breaky Heart." Country legend George Jones also made a surprise appearance.

The top four finalists -- Lawson, Garcia, Mayer and Coffey -- will begin a nationwide tour later this year.

"Nashville Star" is created by Reveille and produced by 495 Productions. Ben Silverman (NBC's "The Office"), Howard T. Owens ("American Gladiators"), Mark Koops ("The Biggest Loser") and Sallyann Salsano ("Design Star," "A Shot at Love with Tila Tequila") serve as executive producers. Jon Small ("Garth Brooks Live in LA") is a producer.

Melissa Lawson:
At age 32, Melissa is the oldest female contestant this season on "Nashville Star." A working mother with five sons, Melissa wanted to prove that country music is about the songs and the voice, not the size jeans you wear. She's the "every woman" in pursuit of the ultimate dream, and she didn't leave her family to lose the competition.

Melissa's amazing weight loss was never the goal -- getting healthy was. Her weight loss journey began five months ago when she weighed just under 300 pounds and realized she need to make a change. She chose not to do another diet, but to make a lifestyle change. Eating healthy and exercising regularly has been the key to her success. She has lost nearly 45 pounds since her first "Nashville Star" audition, and took her weight loss as seriously as the competition. Each week, as she slimmed down and transformed her health, she took one step closer to becoming a music superstar.