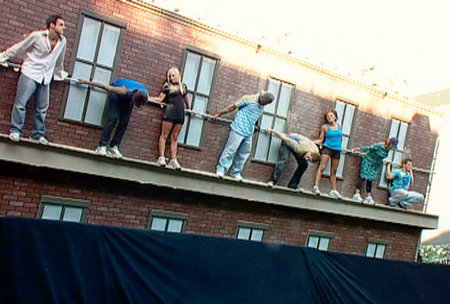 Big Brother 10 Episode 10 Recap – It's All Starting to Fall Apart
Words by Nikki Maria
The fight for Head of Household continues, and only Michelle and April are left standing on the building ledge. But Michelle starts to get really tired and doesn't think she can hang on much longer. April says to Michelle that she promises not to put her and Jessie up on the block if she had to eliminate herself from the competition. So after a strenuous 2-hour and forty minute battle, Michelle jumps off the ledge, which made April the next HOH.  
Everyone accompanied April to her HOH room. Pictures of her mom and dad, twin sister, and nephew were hung on the walls. April's emotions get the best of her when she read a lovely letter from her pregnant sister.
It's All Starting To Fall Apart ... Memphis is aware that his alliance is falling apart, so he and Keesha talk about the possibility of forming an alliance. Meanwhile, April told Libra and Renny that she felt disrespected because Keesha was talking to Memphis, a member of the other alliance. And because Renny and Keesha have some sort of bond, Renny warned Keesha that April is upset with her. Now Keesha feels the need to watch her back - for her own alliance may turn on her.
America's Player Plays! The question for America was, "Who should Dan try to get nominated?" America voted, and Jessie is the target! Dan is excited about this, and says that he will "fight tooth and nail to make sure that the muscle man from Iowa is put up on the block."

Dan immediately goes for the challenge; he puts a buzz in April's ear to put up Jessie. April listened but didn't say much. Dan's idea was kind of out-of-the-blue, which took April for a loop. So Ms. April makes a comment to Libra and Keesha, saying that Dan is weird, and that she thinks that he may be America's Player. Wow, was it THAT obvious?
The Nominees - In the end, April nominates Jessie and Memphis for eviction. The reasons ... well, Jessie is a strong competitor physically and mentally, and Memphis ... she said it was nothing personal; however, she brought up him winning the car, once again! What's the deal with her and that car anyway?
The POV competition is coming up! Will the winner save Jessie or Memphis from eviction?
For more Big Brother 10 Links visit Sirlinksalot.net