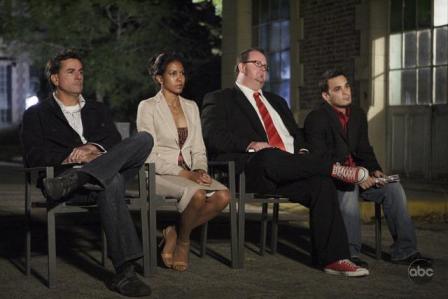 Final Four Players Set
Clay Cauley (Philadelphia, PA) became the eighth player to leave "
The Mole
" during last night's episode. The eighth episode airs MONDAY, JULY 28 (10:00-11:00 p.m., ET) on the ABC Television Network. Jon Kelley ("Extra," "The National Sports Report," "Baseball Today") is host.
In the new hour, "Episode 508," the players can't believe their eyes when their entire world turns upside down. With only two executions left, guns blaze in Buenos Aires as the final four take aim at the game's final exemption -- and each other.
The four players remaining on "The Mole" are:
Craig (San Diego, CA)
Mark (Mukwonago, WI)
Nicole (Chicago, IL)
Paul (Yonkers, NY)
"The Mole" is produced by Stone & Company Entertainment. In the final dramatic episode, the "Mole" will be revealed and one of two final players can win up to $500,000.
(Photo courtesy of ABC)