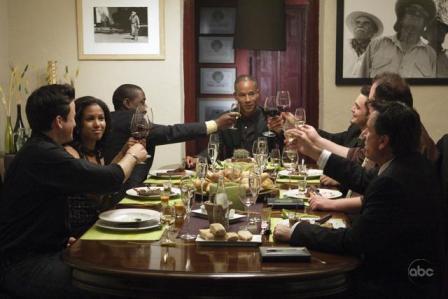 Kristen Willeumier of Santa Monica, CA, became the sixth player to leave "The Mole" during last night's episode. "Episode 506" airs MONDAY, JULY 14 (10:00-11:00 p.m., ET), following a one-hour special that recaps the show to date and features never-before-seen footage, entitled "The Mole: Take a Closer Look" (9:00-10:00 p.m., ET), on the ABC Television Network. Jon Kelley ("Extra," "The National Sports Report," "Baseball Today") is host.
In the new hour, only one woman remains in the group of six. And the players are forced to go to great heights, facing their most terrifying mission yet, in order to earn a much-desired exemption from execution.

The six players remaining on "The Mole" are:
Alex (Haverford, PA)
Clay (Philadelphia, PA)
Craig (San Diego, CA)
Mark (Mukwonago, WI)
Nicole (Chicago, IL)
Paul (Yonkers, NY)

KRISTEN WILLEUMIER
Age: 35
Occupation: Neuroscientist
Santa Monica, CA
Education: PhD, UCLA

Kristen said that, because she is tall, blonde and beautiful, no one ever thinks she could be a neuroscientist. She is currently conducting research to find a cure for Parkinson's Disease at UCLA. Kristen grew up in an upper-middle class family in the Midwest, showed horses competitively and also dabbled in modeling. She thought that competing her entire life as an equestrian and a scientist made her hone skills that would serve her well in the game. She believed her athleticism and her naturally strategic mind would also be assets. Her best trait, she felt, is her kindness, and her worst, that she's a perfectionist.

"The Mole" is produced by Stone & Company Entertainment. In the final dramatic episode, the "Mole" will be revealed and one of two final players can win up to $500,000.
(Photo courtesy of ABC)