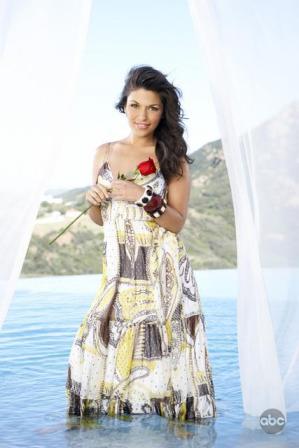 "Episode 402" -- As the 15 remaining bachelors arrive at DeAnna's luxurious villa hoping to win her hand, the first surprise of the season confronts the guys. For the first time in the series' history, three lucky bachelors - Jeremy, Jesse and Richard - who received the first impression roses, will live in the mansion with DeAnna this week. The remaining 12 men must live in the decidedly unglamorous bunk house down the hill. There is a mysterious group date to the Magic Castle in Los Angeles and another truly male fantasy date to Dodger Stadium to meet up with the legendary Tom Lasorda and participate in a home run derby. But after careful deliberation, DeAnna must eliminate three men, as she tries to make her fairytale come true, on "The Bachelorette," MONDAY, MAY 26 (9:00-11:00 p.m., ET), on the ABC Television Network.

The guys discover that getting a rose on a date definitely will have its privileges as they tour their new coined "outhouse," where they will sleep in bunk beds, share a tiny bathroom and an outdoor shower. It's a far cry -- although only a stone's throw away -- from the champagne life in the mansion.

DeAnna takes seven lucky bachelors - Ryan, Fred, Paul, Richard, Twilley, Jason and Sean - to explore the mysteries of the Magic Castle in Hollywood, and the guys  pull out every trick in the book to capture her attention. Jason and DeAnna crawl into a magic box and disappear together for some coveted one-on-one time. Sean runs afoul of the spirits that inhabit the castle and is endlessly interrupted and mocked by a ghostly piano player during his time with DeAnna. But it's not all fun and games. As the passions for DeAnna escalate, so does the tension between the men. Ryan, the pro football player/virgin whose profound faith gives him a feeling of moral superiority, lashes out at Twilley for not being genuine. The pressure of the situation is already getting to the men, and to Ryan in particular.  At the end of the night, DeAnna offers a rose to one man who proves to her that he's more than fun-loving prankster.

Then on the first romantic one-on-one date this season, DeAnna takes Graham to a spectacular private beach. The couple have a fabulous time frolicking on the beach and flying a kite, but the mood quickly turns serious. Brad broke her heart and DeAnna, wary of falling for the wrong guy again, worries about Graham's inability to express his feelings for her. She would rather let him go now than risk being hurt again. He responds by sharing his deeper emotions, but will this be enough to convince DeAnna?

DeAnna makes seven guys' - Jesse, Robert, Ron, Jeremy, Brian, Chris and Eric - dreams come true when she takes them to Dodger Stadium, where they get to meet Hall of Fame manager Tom Lasorda. The fantasy date soon becomes a nightmare for some of the bachelors when Tommy asks them to sing the National Anthem. It's one of the most embarrassing moments in "Bachelorette" history as the men butcher the treasured song. Then the bachelors get a chance to redeem themselves in a home run derby. The winner gets some alone time with DeAnna and opens up to her, sharing a very touching story.  At the end of the day, DeAnna takes one lucky man away to pin a rose on his chest, but the tender private moment plays on the stadium's Jumbotron, leaving the other men to wonder what they did wrong.

A dramatic cocktail party finds the guys again competing for DeAnna's attentions. Twilley assures her he has a serious side despite his sometimes wacky behavior. Jeremy's behavior continues to draw the ire of the other men. The Bachelorette also confronts Chris about how he has handled a past relationship. Tensions are ramped up to the point that one of the bachelors challenges the others to a pushup contest - and 15 guys drop to the floor in their suits to win the dare. One guy proves victorious by doing over 100 pushups.

Then DeAnna must break the hearts of three men she feels are not right for her. Although it is a sad moment, she's convinced that her future husband still remains.

The 15 remaining men are:

Brian W. (Texas), 31, high school football coach from Fort Worth, TX.
Chris, 29, medical salesman from Dallas, TX.
Eric, 31, senior analyst, Boston, MA.
Fred, 30, lawyer, Chicago, IL.
Graham, 29, professional basketball player from Raleigh, NC.
Jeremy, 30, real estate attorney from Dallas, TX.
Jesse, 25, professional snowboarder from Breckenridge, CO.
Jason, 31, account executive from Kirkland, WA.
Paul, 23, sales manager from Edmonton, Alberta, Canada.
Richard, 27, science teacher from Binghamton, NY.
Robert, 28, chef from San Francisco, CA.
Ron, 36, barber shop owner from Kansas City, MO.
Ryan, 28, professional football player from Lakeville, MN.
Sean, 33, martial arts master from Crestwood, KY.
Twilley, 33, debt manager from Tulsa, OK.

Hosted by Chris Harrison, "The Bachelorette" is a production of Next Entertainment in association with Warner Horizon Television. Mike Fleiss, Martin Hilton and David Bohnert are executive producers. "The Bachelorette" is broadcast with Spanish subtitles via secondary closed captioning. A TV parental guideline will be posted closer to airdate.