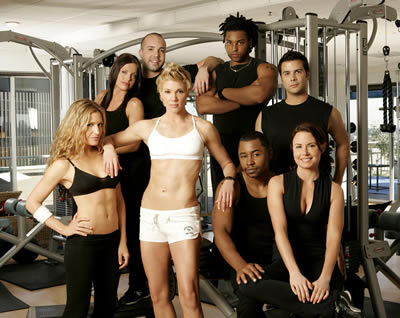 In Bravo's "Work Out," Sky Sport & Spa owner Jackie Warner and her trainers push themselves emotionally and physically and uncover the exhausting process of creating a fitness DVD, the upcoming release, "Workout: One-On-One Training With Jackie," which hits stores today. The special episode featuring the "making of" the DVD airs Tuesday, June 3 at 10 PM ET/PT.

Bravo Media, in association with NBC Universal Television, DVD, Music and Consumer Products Group, LionsGate and Exercise TV, has released the fitness DVD "Workout: One-on-One Training With Jackie" in stores today. The DVD is a powerful one-hour routine as Warner demonstrates upper-body, lower-body and core workouts using her exclusive moves in a fusion of cardio and strength training. The DVD is also available online at http://bravotv.com/workout and is currently playing on demand on Exercise TV.

Warner teams up with director and producer Andrea Ambandos and video choreographer Keli Roberts to help in the creation of the DVD, including holding auditions to select which "lucky" four trainers will appear alongside Warner. Agostina Laneri, Renessa Williams, Rebecca Cardon and Jesse Brune are excited to be chosen for the opportunity, but soon discover that creating a fitness DVD tests their physical and emotional strength beyond anything they could have imagined.

Sign up today, rate users, read stories, rate and comment on reality TV news, apply to a casting call or just make friends. JOIN TODAY! It's FREE!

With the shoot only days away, Warner begins feeling the pressure and struggles with the DVD's workout routine and butts heads with choreographer Roberts, who has what Warner describes as an "80's, dance style," which does not fit in with Warner's modern, power circuit moves. "This is not the way I train, this is not the way my trainers train and it was so clear to me that this was the wrong direction," says Warner.

On the shoot day, everyone's excitement turns to frustration when they realize they will have to do multiple takes of the routines. The pressure is intense as the trainers are driven to tears and physical collapse. "Doing the workout DVD was hell on earth. You're doing take after take, and whether or not you have the energy or the positive attitude, your muscles will just give out," says an exhausted Cardon.

"Workout: One-on-One with Jackie Warner" marks Bravo Media's first non-series release, further extending the Bravo brand beyond the television screen to bring it directly into the viewer's environment, giving fans a chance to get buff in the comfort of their own homes.

Bravo Media – a global, multimedia content company – reaches every consumer touch point, with its all-encompassing group of divisions: talent management, publishing, merchandising, Bravo To Go (wireless), Bravo Experience, digital, television, radio and international. With Bravo's television content serving as a blueprint for the multiplatform business, Bravo Media's divisions are organic extensions, providing the network's highly-engaged fans with a menu of options to experience the network in a four-dimensional manner. Bravo is a program service of NBC Universal Cable Entertainment, a division of NBC Universal, one of the world's leading media and entertainment companies in the development, production, and marketing of entertainment, news, and information to a global audience. Bravo has been an NBC cable network since December 2002 and was the first television service dedicated to film and the performing arts when it launched in December 1980. For more information, visit www.BravoTV.com.