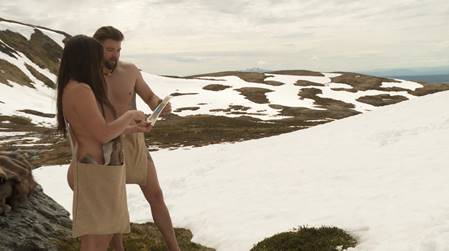 Discovery Channel announced an all-new season of "Naked and Afraid" premieres March 3rd. There's never been a worse time to be naked and afraid than this season of the extreme survival challenge.
"Survivalists are put in the most challenging locations to date including the frozen tundra of Alaska, an alligator-infested swamp in Florida and an African Kill Zone where they are stalked by lions, dozens of crocodiles and a herd of 100 elephants. Six Naked and Afraid All-Star survivalists return to take on locations so dangerous they put their elite skills to the ultimate test," says the Discovery press release.  "This season also features Naked and Afraid's first threesome challenge, a four-survivalist Battle of the Sexes as well as the first couple to take on this challenge."
The new season of "Naked and Afraid" premieres Sunday, March 3 at 8pm ET with two hours of episodes each week, then moves to 9pm ET starting April 14 on the Discovery Channel.
Photo courtesy: Discovery Channel