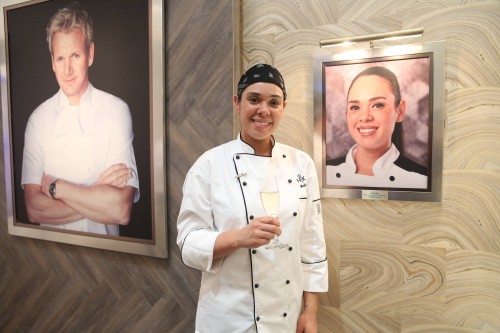 In the season 18 finale of "Hell's Kitchen," Chef Gordon Ramsey announced the Rookies vs. Veterans winner, Ariel Fox. Fox previously competed in season 6 of "Hell's Kitchen" and placed third.
This season, Fox returned "with a decade more experience and an undeniable determination, which ultimately lead her to victory," says the FOX press release.
The veteran Ariel Fox and rookie contestant Mia Castro went head-to-head for the final dinner challenge, but it was Fox's menu that defeated Castro.
The winning menu from Ariel Fox:
Appetizers:
Shrimp ceviche rojo with mixed chips
(tarot root, purple potatoes, sweet potatoes, green plantains)
Pork dumpling
Scallops with warm corn, pablano and shishito succotash, and sweet corn soubise
Baby gem salad with "Mexican ranch" shaved radish, pepitas, pickled pinto beans, roasted jalapeño and lime vinaigrette 
Entrees:
Pollo a la brasa
Mackerel veracruzana
Rib cap Mole
Wagyu Strip with chili salt and corn esquitas
Desserts:
Passionfruit 'napoleon' with raspberry white chocolate and Thai lime whipped cream
Churros with cajeta, anglaise, chili hot chocolate
The grand prize Fox won includes a position at the world's first Gordon Ramsay HELL'S KITCHEN Restaurant at Caesars Palace in Las Vegas and $250,000.
Photo credit: FOX