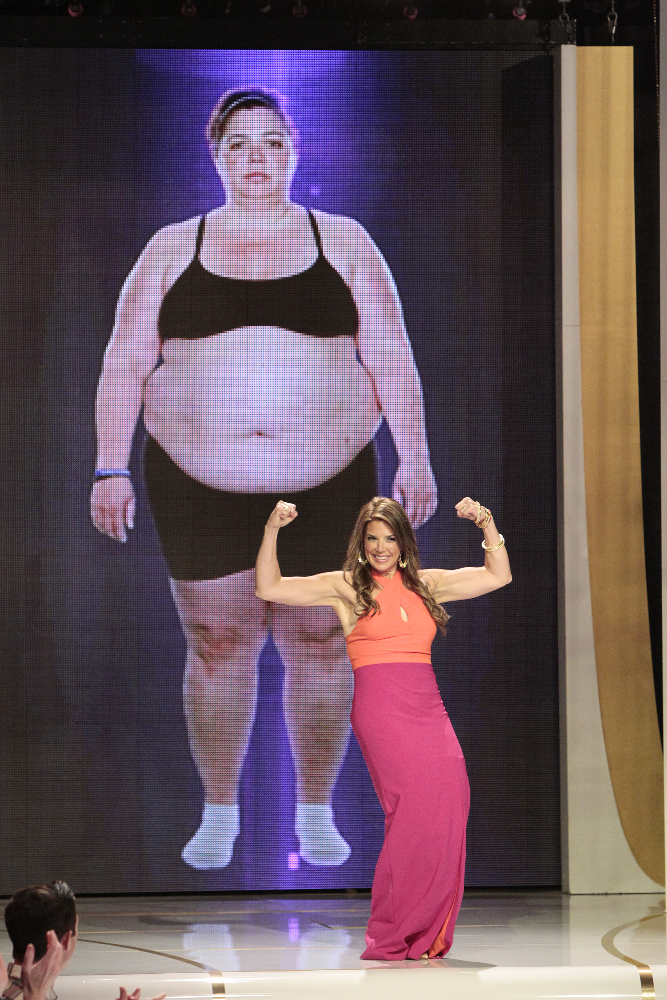 By Ashley Thompson
Jacki is a 44 year old mother of two in Denver who is approximately 135 pounds overweight. The emotional trauma that caused her to pack on the pounds was when when her toddler sustained a head injury at his day care and they weren't sure if he would survive. He had shaken baby syndrome. It's an injury to the skull or brain of an infant, cause by intentional blunt impact of violent shaking. He did survive but it changed the family's life. The care taker was sentenced to 5 years in prison. After all of the effects of the stress, she doesn't know if she's fixable emotionally or physically.
Weighing in for the first time is 266 pounds. Not only does she need to lose the weight she needs to gain her family back after writing them off after she felt they abandoned her after her son's injuries. After reaching out to her parents, she ends up un-invited to her brother's wedding. But after her Phase I weigh in she admits to eating her feelings through chocolate but weights in at 198, one pound past her goal. Her next goal is to lose 35 pounds.
Chris offers to fly up to Colorado and drive Jacki to her parent's home to support her in reconnecting with her family. When Jacki walks up her mother meets her outside and once she sees Jacki crying she walks away and almost slams the door in her face. She didn't invite her into the house but she did speak with her eventually. She admits to dealing with depression with alcohol and cigarettes. What her mom fails to do is admit that she was wrong, too.
After coaching from Amy Van Dyken-Rouen (paralyzed Olympic medalist) Jacki gets ready for her 6 month milestone, open water swim in the Bahamas. But what she learned most from Amy was how not to be a victim. At her 6 month weigh in she is down to 161 pounds, beating her goal of 163. Now she gets to swim 3 miles from island to island (after feeding sharks at a restaurant) and only Chris following in a kayak.
As part of Phase III Hunter wants to know that what happened was not his fault so approaching the care taker is imperative. He films "A Day In The Life Of Hunter" to show the care taker to explain his struggles and strengths. Meanwhile Jacki's struggle is nutrition. Chris hires a private investigator and finds out that Jacki is REALLY struggling with the foods she's eating. She weighs in at 150, down 11 pounds and down from 50% body fat to 20% body fat... making her a good candidate for skin removal surgery. But Chris won't let her get the surgery until she contacts the babysitter. When Jacki explains who she is the smile left the baby sitters face but she opened her door and welcomed Jacki in. They offer up their apologies, accept and forgive.
At her final weigh in Jacki looks phenomenal and weighs in at 144 pounds, total weight loss at 122 pounds!
Photo credit: ABC