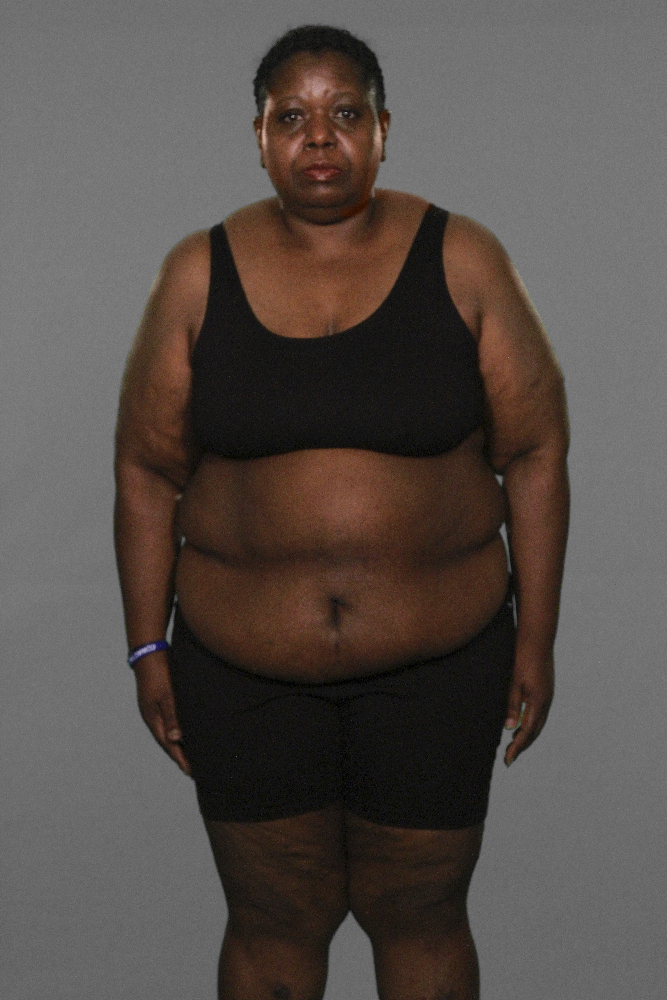 By Ashley Thompson
Mitzi is dedicated to helping homeless youth. But her own home is full of things and filth, and her problems have helped her pack on the pounds. Her ex took advantage of her generosity and she put all of her money into a house he promised he would flip. Once he left her, she shut down. Heidi is the first person she has had in her house in over 8 years. Not only is it not remodeled at all, she is a hoarder. Mitzi is approximately 130 pounds overweight at 5'6 and 262 pounds. The first 90 days Heidi expects Mitzi to lost 63 pounds and get down to 199 pounds.

During her first fight or flight workout she fell off the treadmill but she felt it was true of life and she had to get back on. Then a shopping trip with Rocco and an appointment with Dr. David Tolin (psychologist), all is clear. She is replacing people with things and food. When the doctor gave Mitzi the chance to throw items away, she struggled.

At the end of Phase I Mitzi is down 65 pounds. Phase II is about cleaning up her life while continuing to lose weight. When she goes home she is met with the doctor and afraid of what to expect before even walking into her house. But he takes her around to her back yard and there's a party waiting for her arrival! She finds the courage to explain why they have not been let inside and receives nothing but empathy from her support group. However, his plan was for them to help her with the stuff, to which Mitzi breaks down. She's not ready to reveal her secrets. She eventually caves in and they get to work, freeing her of even more weight. When Chris and Heidi visit they take her to meet Ernestine Shepherd (a 78 year old competitive body builder). Ernestine started working out at age 56 and started body building at 71... we can see why she's Mitzi's role model, and her new trainer for Phase I. Her next goal is to lift a total of 300 pounds. Before leaving, Chris and Heidi track down Mitzi's ex, Harold, and bring the two together, throwing her though a loop. Ultimately they accept the past and vow to move forward.

At the end of Phase II she is down to 171 pounds, missing her goal by 9 pounds. However, she has met two out of three goals, house cleaning and power lifting (120 pounds back press, 80 pounds chest press & 100 pounds deadlift). But her personal goal is 160 pounds deadlift and she dominated it, bringing her total to 460 pounds. At her 9 month weigh-in she is down to 157, one pound past her goal & making her an excellent candidate for skin removal surgery.

At her final reveal Mitzi is looking absolutely fabulous and down to 148 pounds which is a total of 114 pounds lost! Way to go, Mitzi!!
Photo credit: ABC