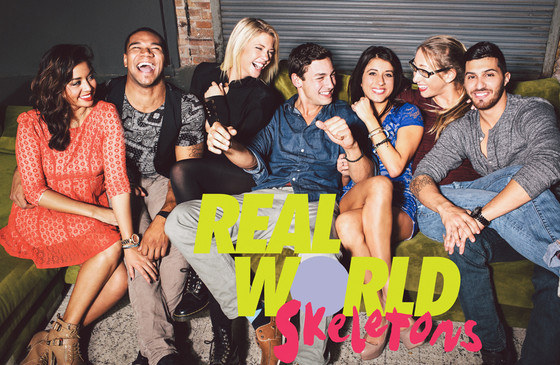 By Ashley Thompson
Last episode we watched Nicole make out with a guy to get him to pay for Tony's stolen bottle of booze. Jason is still pissed and thinks that Nicole did the wrong thing. Rather than speak calmly, they fight. Odd. But this isn't any regular drunken scuffle... Jason apparently pushes Nicole and then picks her up! It's not directly on camera but enough of the altercation is filmed (and roommates screaming) that it's not surprising security is called in to hold Jason back. In his interview Jason is remorseful for his disrespectful behavior. It may not be enough because Nicole is mentally crushed, even refusing to speak to him, "You're dead to me".
Since the fight was bad enough producers have brought in a therapist. Bruno feels like it's a joke but everyone else seems to benefit from it, especially Jason. While listening from a distance, it's hard to tell if Nicole believes Jason is sorry. Jason doesn't have time to think about it anymore because his skeleton is here.
A well dressed man walks in asking for Jason and Jason doesn't seem to know who he is... until he addresses himself as Lafayette, Jason's father. Jason is visibly shaken. During his interview he explains that his time with Jason's mother was a one night affair. After all is said is done Jason is willing to forgive his father and move on.
It's time to say goodbye to the roommates:
Tony and Madison plan to make long distance work. Tony learned about relationships while being in the house and Madison got her sister back.
Bruno says he loves Carla way more than any of the roommates and wants to make the relationship work but doesn't know exactly how yet. He's happy he has a renewed relationship with his brother but deliberately avoids saying goodbye to the roommates.
Violetta claims that her fights with Madison helped her grow the most.
Sylvia will miss Violetta the most but is happy for the experience.
Nicole learned that she's not as mentally strong as she thought she was. Still doesn't say goodbye to Jason as she leaves.
Photo credit: MTV