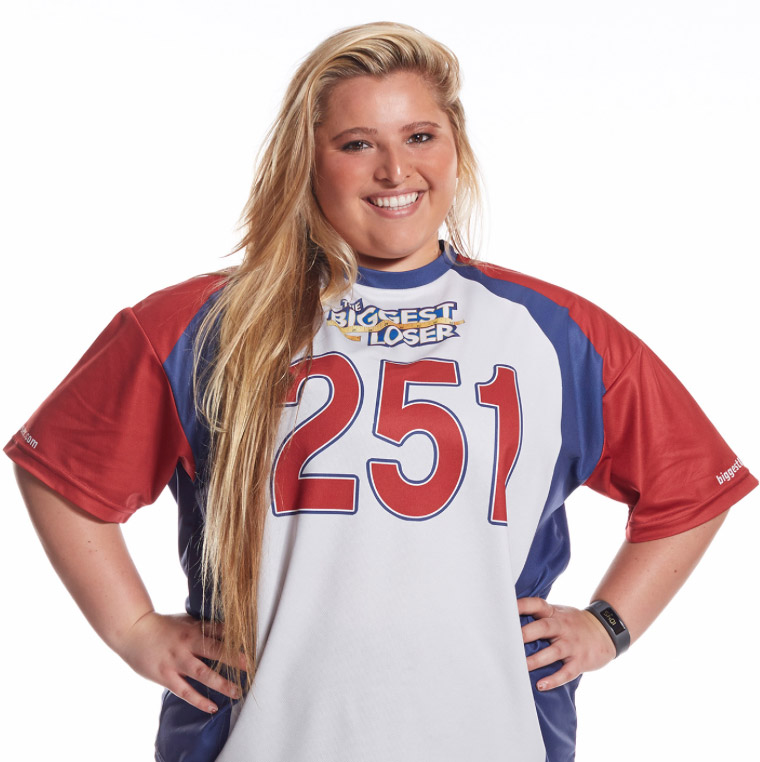 This week on Biggest Loser Glory Days we saw the youngest player Blake, leave the competition for good.
I feel sorry for her, because what became obvious not only on last night's episode but also on the phone interview today, was that this poor girl had been put on diets by her parents her entire life, so desperate to please them she was even considering gastric bypass surgery before applying for Biggest Loser, also at her mother's insistence. 
She explained the tortured life she had led, with restricted eating at home then sneaking food binges out with her friends, going home to guilt and body shaming and I fear that, once away form the Biggest Loser spotlight and pressure, that this girl is going to be just like me (and so many others) and lead a tortured life of yo yo dieting and weight gain. 
It's easy to drink the Kool-aid and be "all in" when the cameras are focused on you, especially coming from a competitive sporting background like hers. But what happens after? She claims she has finally decided she wants to lose the weight for herself and live a healthy "normal" life but I worry that without the work done on the inside, the outside will simply be a battle too big to conquer. Been there done fat myself!
As the phone call went on, my heart broke for this girl who had yet to even really go out into the world. Her first year of college was so plagued by self loathing and body shame that she locked herself in her room and ate away the days, jealously watching other kids her age post photos on social media, watching others live a life she longed to have.
I couldn't help but think, shame on her extremely good looking and slim mother for creating a young woman so ruled by body image that she didn't even know who she was unless she was the skinny image her mother wanted her to be. Her mother has failed her in the most heinous of ways because the truth of life is that many things can happen to us and our physical body may change at a moment's notice (you could lose a limb in a car accident or your hair to cancer). What remains unchangeable is our spirit, our heart, our love for our fellow human beings and most important of all, our love and respect for our selves. This poor girl bases her entire self worth on how she looks and as a mother, my heart breaks for her.
I applaud her strength at getting such great numbers in a weight loss competition week after week, despite sporting stress fractures in both of her feet. I applaud her strength in going on TV and sharing the most vulnerable part of her self with the world. She referred to being everybody's daughter at the ranch and I feel very much the same way about her and I worry for her. Unless she gets some psychological support and unless she learns to love herself as she is, then I fear she will be facing a lifetime on that horrible diet merry go round so many of us have fought our entire lives.
These days she says her friends are supportive of her journey, making them exercise with her before they go out and have fun. She's working out four hours a day and she recounted her story of ordering off the menu and her friends doing the same only to declare the food tasted terrible. She kind of agreed, saying it was what it takes to keep the weight off and again it all comes back to this beautiful young girl basing her entire self worth on a number on a scale. "Beauty is pain, pain is beauty." This is not how it is supposed to be. 
As good as she looks and as great and inspiring she is for working out despite being injured, my hope for her is that one day, she looks not in the mirror, but deep inside her soul and realizes that no matter what she weighs or what number lives on the label of the dress she wears, regardless of what her parents think of her size or whether or not the world is watching her, or even how much space her body takes up, but that deep down inside she realizes she is a valuable, worthy, beautiful human being deserving of respect, and equally deserving to love and be loved, no matter what she looks like.
-Ajay Rochester is the former host of the Biggest Loser Australia and author of Confessions of a Reformed Dieter (Random House).