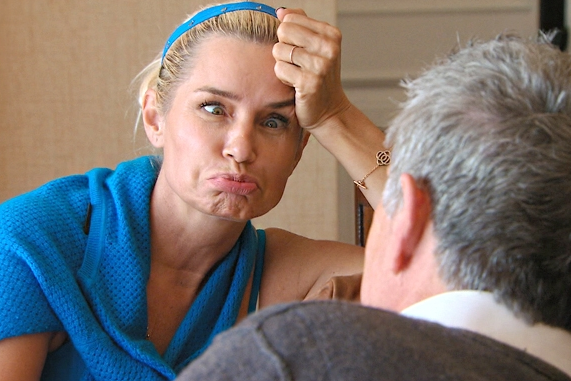 At this point in the Real Housewives of Beverly Hills, each episode is worse than the last. Carlton is the primary suspect of the downward spiral this season. Does anyone else find themselves muting or fast forwarding when Carlton appears on the screen?
This week, Kyle was uninvited to Carlton's husband, David's, company party, but her husband Mauricio was still welcome to attend. Comical really, however Lisa was one of the housewives who did actually attend the party. She made an effort to let Carlton know she overreacted toward Kyle, and Carlton turned on the waterworks. She wasn't having any of it, and still believes her behavior was warranted.
For Yolanda, she was finally taking the test to become a citizen of the United States, and kudos to her and her hard work studying. Honestly, I didn't even remember the answers to some of those questions. Of course she passed, but there was something so genuine about her pride and excitement for becoming a citizen. The moment of positivity was a breath of fresh air in the episode.
The main event and upcoming events lay in the pending dissolve of Brandi and Lisa's friendship. Brandi has apparently maxed out on the antics from Lisa, but she said, "I'm not 100% prepared to go up against her [Lisa]."
Backing away or withdrawing slowly from the friendship would be the rational option, but Brandi has alluded to the situation as being the beginning of the end because Lisa will ruin her. 
We'll find out more about their friendship and how it will pan out from here next week. We'll also see Brandi giving Carlton a gift from Kyle that goes with the necklace she already gave her. Give it up, Kyle. Carlton is not worth the battle, darling. You can't fix crazy ... or witchy.
Stay tuned.
Photo courtesy of Bravo