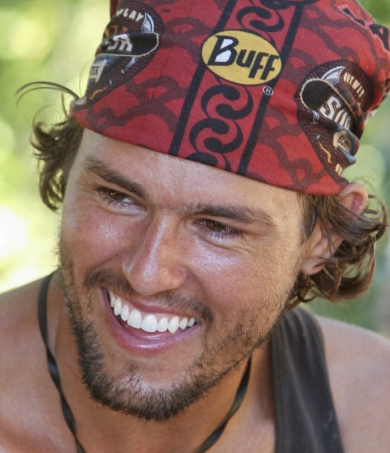 by Gina Scarpa
Survivor: Blood Vs. Water kicked right off this week at Redemption Island, where Kat was a hot, crying mess as she reunited with Hayden. After grabbing a hug from him, she outright asked him to take her place. Was he willing to jump in and save her? Heck no, he wasn't! This is a Big Brother winner we're talking about here!
He asks her to think long-term and about who has a better shot of winning the game. As they both sing his praises, all I can do is yell at my tv, "STOP TALKING! STOP TELLING EVERYONE WHY HE'S GOING TO WIN A MILLION DOLLARS!" but they couldn't hear me all the way in the Philippines. I tried.
Sometimes, when you put a thought in the universe, it comes true and Kat already decided before the challenge got underway that she was going to lose. John completed his 3-D puzzle first, followed by Laura M., and Kat had to say goodbye before making the merge. "You're not going to break up with me, are you?" Kat asks Hayden. Oh Kat...
In the immunity/reward challenge, tribes are chained together and run through an obstacle course to retrieve bags of bolas. One player each throws them in a game of ladderball. It seemed like Tyson would run away with it at the end, but Tina put up a good fight. However, even with one good arm, Tyson is still a beast and pulls off the win.
Vytas is the easy choice to pick off but, when your back is against the wall, just wait for someone to do something to ruin their own game. Cue Laura B., who decides to announce back at camp that her alliance has decided he's leaving. No one likes to be spoken for and Vytas jumps all over that at tribal council. He argues that it doesn't matter whether the alliance is one gender, it matters if they're all one unit. Works for everyone, and Laura B is sent to Redemption Island to face John and Laura M.

Survivor: Blood Vs. Water airs Wednesdays at 8/7c on CBS.
(Image courtesy of CBS)

Follow Gina @ginascarpa