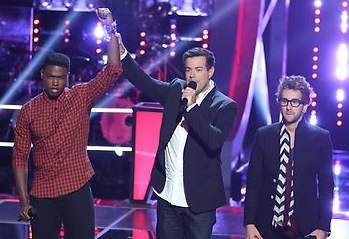 by Jessica Blackwell
Tonight, the knockouts continued as the contestants vied for the last spots for the live shows. 
Anthony Paul vs. Jacquie Lee - Team Christina 
Christina wanted to see how these two young artists performed under pressure, so she paired them together. Anthony chose Jason Derulo's "The Other Side" and while his performance was good, there were some parts in the song where his voice fell flat. Jacquie on the other hand NAILED her performance of "Stomper". Unfortunately, Anthony's bad performance cost him his spot on the show, and Jacquie is moving onto the live shows. 
Stephanie Ann Johnson vs. Tamara Chauniece - Team Cee-lo
Last week, Stephanie was almost sent home, but Cee-lo saved her. This week, she showed him how grateful she was by pouring her heart into a performance of Norah Jones' "Don't Know Why". She went both low and high with perfect control and she made the song her own. Tamara chose Alicia Keys' "No One" and gave it a reggae twist. I personally thought that Stephanie rocked it, but Cee-lo chose Tamara as the winner. Luckily for Stephanie, Christina stole her back to her team! Way to come full circle! 
Austin Jenckes vs. Brandon Chase - Team Blake
The best performances come when singers have emotional connections to their song. Austin made his song choice thinking of his late father, who took his own life. When he took the stage to sing "I'll Be", you could hear the raw emotion in his voice. Brandon sang "Even if it Breaks Your Heart" and while he did a good job, I think Austin's emotional connection to his song prevailed. Blake agreed, and he chose him as the winner of this round. 
Caroline Pennell vs. George Horga Jr.  - Team Cee-lo
Caroline has this kind of quiet amazing voice, but Cee-lo encouraged her to push the envelope this week. It paid off, she did an amazing version of "The Way I Am". George fell short on his performance, and Ne-Yo's "Because of You" just wasn't the right song for him. Since she was clearly the winner this week, Caroline will be going onto the live shows. 
Matthew Schüler vs. Will Champlin - Team Christina 
In an unexpected choice, Mathew chose "Cosmic Love" by Florence+The Machine for his knockout round performance. It's tough for men to sing songs designed for a woman' vocals, but MAN did Matthew make this song all his own. His voice is AMAZING! Will went a more predictable choice when he performed "When I Was Your Man" but he sang the heck out of it! Both of their performances earned standing ovations from the coaches, but there could only be one winner. Christina chose Matthew to move on with her team, but Adam stole Will! 
Next week, we're onto the live shows! Stay tuned! 
The Voice airs Mondays and Tuesdays at 8pm EST on NBC. 
(Image Courtesy of NBC)