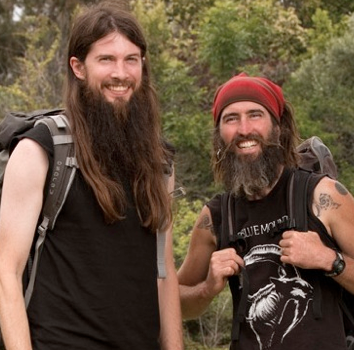 by Gina Scarpa
Brandon and Adam were sitting pretty when they checked in at the mat in Norway last week on The Amazing Race. Then, they found out the leg wasn't over and that all the teams would catch up to one another. It was as if a reset button was hit and things, from that point on, didn't go as planned. They arrived last in Poland and were surprisingly eliminated. We chatted with the bearded wonders this week about their exit from the game in our exclusive interview.
Q. Gina, RealityWanted: Whose idea was it to do The Amazing Race?
A. Adam: It was Brandon's idea and he's been after me for years. I'm game but I was either not living in the country or busy. We'd always miss the application date.
Q. Gina, RealityWanted: Brandon, being a fan of the show and trying to get on it, it must have been such a great feeling to be standing there in front of Phil Keoghan.
A. Brandon: I had just been thinking about it! I had always thought it would be fun to do. When Adam was finally in town, I made the video with him and we sent it in on the last day. I thought maybe I'd hear in a few months and they called us the next day. I was on my way to a beard and mustache competition and casting said, "No no, don't change anything!"
Q. Gina, RealityWanted: What's the toughest aspect of the race in comparison to watching it on tv?
A. Brandon: Sleep deprivation! I'm not very good at sleeping on a plane. You're so excited to be racing. You don't get much sleep time anyway so you really need to know how to sleep on planes. You get to a place and it's like nothing, go go go, nothing nothing, go go go! You're not eating right, you're on a different schedule...
A. Adam: Not to mention, what you see on tv is exciting and a lot of times on the race, it's boring.
Q. Gina, RealityWanted: What was your position on forming an alliance with other teams?
A. Brandon: We made friends with everybody! That was one of the things that ultimately kind of screwed us. We were asked to be in alliances and we wouldn't have been U-Turned. I didn't want to get in the position where I was in an alliance and they were asking us to screw someone over who didn't deserve it or who we didn't need to do it to. Maybe we could've been saved if we had done that.
Q. Gina, RealityWanted: What was the biggest contributor to your elimination on this leg?
A. Brandon: Showing up last! I'm pretty sure what got us in the end was showing up last.
A. Adam: There's tons and tons of factors. Some of it is just luck. You get a taxi guy who knows where something is, you ask the right people in the town...
A. Brandon: In between the leg, it tied everything up. It was a new, fresh leg.
Q. Gina, RealityWanted: You guys were in such a good position after the first half of this leg, checking in first. You had to have been feeling good going into the second half.
A. Adam: We had been after Phil to make us keep racing every leg. We kept saying, "Keep racing, right Phil?" When he finally said it, were like, "Oh..."
A. Brandon: We were a little bummed that keep racing meant go sit and wait for a boat.
A. Adam: By the time we actually got on the boat, it was like 40 some odd hours that we had been racing. It was exhausting! It's hard to think clearly and do your research. A bunch of us (Travis, Nicole, Jason, Amy) worked together so we knew what to do when we hit Poland. A lot of people used the internet on the boat, which we didn't know existed.
Q. Gina, RealityWanted: What was the best part of getting to do the race?
A. Adam: I think the biggest thing is getting to spend time with my buddy, having a riot... we're pretty good about going and doing the things we set out to do. Now I have to find a way to get Brandon a camel. I was asked what I would do with the money and I wanted to get him a racing camel.

The Amazing Race airs Sundays at 8/7c on CBS.
(Image courtesy of CBS)

Follow Gina @ginascarpa