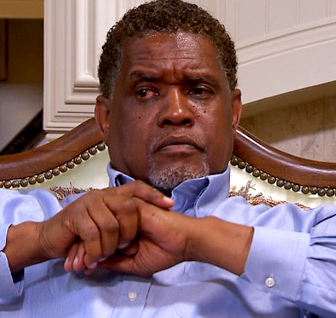 by Gina Scarpa
The Leakes vs. NeNe continues this week on I Dream of NeNe. Gregg's oldest son Damien has stormed out but Dr. Jeff is able to get things under control and bring everyone back together. Stop the presses. Gregg actually listened to Dr. Jeff!
Gregg's kids are unable to admit the issues that have plagued their family for decades, and things get worse when he tries to blame NeNe. He says that she was too paranoid that the kids didn't like her and that's why there's distance between the two families. Katrina, the only daughter, finally steps up and confronts her father for not being around. NeNe shares her own story about being estranged from her father and it causes a really nice moment between Gregg and Katrina. Finally, a little peace.
Shifting gears, NeNe meets up with bridesmaids Alexis and Michelle at the venue to share her wedding day vision with them. Then, it's off with Gregg to see Tiffany the wedding planner, but she doesn't seem to have too many ideas for the couple. Things get tense between them and we're left with NeNe telling this chick that she better deliver. Pressure's on, Tiff.
Back to the bridesmaids, the women head into Hollywood to talk bridesmaids dresses, and they're not going to be cheap, I'll tell you that! Price isn't the only drama as things get tense during dinner at Mr. Chow.  NeNe reveals that Alexis told her that Diana isn't happy that she and Gregg are back together.  Of course she denies it then turns the focus on Marlo, calling her an opportunist when it comes to her friendship with NeNe.  The insults and accusations keep flying, turning what was supposed to be a nice event into a super uncomfortable situation.  Can these ladies get it together before the big day?

I Dream of NeNe airs Tuesdays at 9/8c on Bravo.
(Image courtesy of Bravo)

Follow Gina @ginascarpa