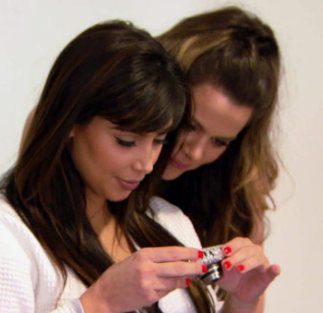 by Jessica Blackwell
After a month long hiatus, the Kardashians are back, just in time to catch the tail end of Kim's pregnancy. 
Because Bruce Jenner can never have anything - ever, Kylie and Kris decided that it was unacceptable for him to have him loaded gun inside the house. They wanted to get rid of it, but the only problem was, the didn't know where he kept it! In order to find out it's top secret location, Kris had to act like she was interested in the gun. She even went to the shooting range with him, pretending to be so into it, all just to find out the location of his gun. 
Poor Brucie, he actually thought his wife was into  guns, so he bought her one as a gift, after she submerged his in cement! After she opened her gift, Bruce was so turned on that he ran to go and grab his beloved piece, and Kris had to reveal what she'd done. In the end, Bruce took ownership of the gun he bought for Kris, so there is still  a gun in the Kardashian/Jenner house and what their little coo was pointless. 
Kourtney and Khloé thought they would be nice and throw Kim a baby shower for her little bambini-to-be. Unfortunately for them, Kim decided she didn't want a baby shower. Since there was so much negative press surrounding her baby, Kim really didn't want to do a big event, you know, celebrating her first child. Poor girl!  When Kourtney broached the subject to her, Kim was too busy taking selfies with her blue contacts, so she kind of brushed it off and said she didn't care about having a shower. 
Understandably really panicked, they used every trick in the book to try and convince Kim that she should have a baby shower. Luckily, Kris had some old footage of one of her baby showers, and it won Kim over. It really wasn't Kris though, it was seeing her Dad on film. Either way, it got Kim to her baby shower, which was gorgeous!! 
Her sisters planned an amazing garden themed shower, complete with books hanging from the ceiling of the tent. Since it was all women, Scott and Lamar were supposed to arrive at the end with Kanye, but instead, they arrived in the middle, without him! It was all good though, because Kanye arrived shortly after with an entourage of his family in tow. I'm sure Kim was glad she decided to have a shower, there were some moments that she'll never forget, especially the touching speech from her mom. 
Next week, Khloé's dog needs some serious training and her and Lamar's secrets are revealed! Stay tuned!
Keeping Up With The Kardashians airs Sundays at 9/10c on E! 
(Image courtesy of E!)