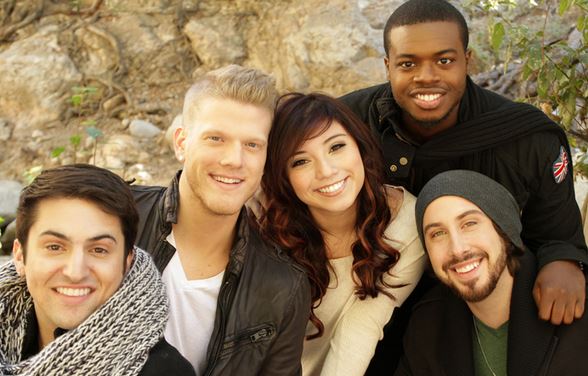 by Gina Scarpa
Later this year, The Sing Off will return to NBC for a fourth season and meanwhile, last season's champions are still riding the wave of success. Pentatonix exploded on YouTube following their victory last year, garnering millions of subscribers to their channel and video views. We had a chance to catch up with the group during a recent live show in Connecticut to talk about their success and their upcoming album, PTX Volume 2.
Q. Gina, RealityWanted: What's the biggest difference for you between life before The Sing Off and life after?
A. Kirstie: I feel like we all wanted a career path in music and wanted to pursue something like this all our lives. I had just had one year in college, and Scott and Mitch did as well, so the transition was kind of weird. I had just gone to school super close by and I was always close to home. I felt like I had to grow up really fast. I got my own apartment and had to do everything myself, but it's really cool to think that if I graduated, this is the opportunity I would've wanted.
Q. Gina, RealityWanted: It seems like you guys spend so much time together. What is it like to be together as often as you are?
A. Avi: It's really, really cool that everyone in the group is so different and none of us hate each other. We're together all the time, literally 24/7 and we can honestly stil have good times. I would say 90% of the time it's all good. We're having fun, we're chilling. It's a family, people fight, but we're honestly blessed to have each other.
Q. Gina, RealityWanted: Your videos are so popular on YouTube and you've had millions and millions of views. Do you have a favorite?
A. Mitch: I actually really, really like Evolution of Music. It's totally different than anything we've ever done. That one took the longest but I think it was the most creative and it took a lot more planning and energy. We're just really proud of it and we're proud that it did as well as it did. I think that's my favorite one.
Q. Gina, RealityWanted: How long does it take you to do a video from start to finish?
A. Kevin: I think it really depends on the video and what our time table is like. Sometimes, we have a good amount of time but honestly, we can get an arrangement done in a couple of days and then record it the next day. For example, when we were on tour, we did Evolution of Music and that took us about a week plus. On that one, there was more pre-planning because we had to figure out all the songs so it all really depends.
Q. Gina, RealityWanted: What can you tell us about your new album?
A. Scott: That's a perfect question because we just finished recording it the other day. Now, we're just working on mixes. Basically, it's four covers and four originals and there's a lot of new things on it that we've never done before. The original material, we're obsessed with! We're just excited to show everyone our material because we're really proud of it and we think it's great.

Stay up to date with Pentatonix by visiting their official site and following them on Twitter!
(Image courtesy of Ryan Parma)

Follow Gina @ginascarpa