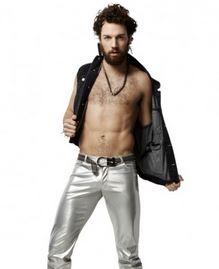 by Gina Scarpa and Thea Napolitano
Disappointed this weekend when you tuned into Top Model only to find a recap episode? When we last left the models, Tyra announced that not only would a female model return to the competition, but a male model would as well! With the highest social media score, it was no surprise to see Alexandra be brought back, but we're still waiting to find out which guy is getting a second shot. While we wait to find out whether or not Phil gets to re-enter the competition after his elimination, we chatted with him about his time thus far with Top Model.
Q. Gina, RealityWanted: When you were auditioning for Top Model this season, were you feeling confident you would get on the show or was it a surprise when you were cast?
A. Phil: When I auditioned, I knew I nailed it right away. I mentioned to the casting folks that I had ADHD and hadn't taken my meds that day. It was a 14-hour audition and when I got to the end, I was beat. After the audition, the casting people pulled me aside, gave me paperwork and told me to take my meds. I wore a dress to the audition. One of my lines was, "Hey Tyra, expect the unexpected. I'm not wearing any pants right now."
Q. Gina, RealityWanted: Getting extensions was a pretty big deal how did you like them?
A. Phil: I loved the extensions. The only thing I didn't like about them is the maintenance. The way they were put in, there was only so much I could do with my hair and it limited me.
Q. Gina, RealityWanted: A lot was said about your possible romance with Jiana, but it was reported you're still with your girlfriend. Jiana also said when I talked to her that you're just friends. Do you think that was blown out of proportion a bit in the episodes?
A. Phil: Yeah, definitely. Every episode was out of proportion with me and Jiana. We weren't ever really around each other, and we're just friends. We thought highly of each other. I was in a relationship and didn't have any interest in Jiana. I didn't have feelings for Jiana and if I did, I would've gone through with it because I'm a pretty impulsive guy.
Q. Gina, RealityWanted: How did it feel walking in Style Fashion Week?
A. Phil: Walking was great. It was the first time I've done a runway in LA, and it was great to finally do a runway show. Most runways, you don't walk down walls. It was great to walk down a conventional runway and get backstage.
Q. Gina, RealityWanted: Was that a standout moment to you in the competition or is there another one that sticks out in your mind more?
A. Phil: Yeah, it was definitely a standout. I think every week was standout. It was nice to finally do the conventional runway - it was really exciting.
Q. Gina, RealityWanted: What was going through your head when you got eliminated then right away had the chance to come back?
A. Phil: The feeling I had when I knew I could come back... it was a really big shift of emotions. The biggest swing of emotions was when Alexandra came back and then they really blew my mind when they announced a guy would come back.
Q. Gina, RealityWanted: What's your ultimate career goal?
A. Phil: To really take over this fashion and commercial world with the beard. After I do that, I'd love to eventually become a national geographic photographer and show the world my point of view through my camera lens.

America's Next Top Model airs Fridays at 9/8c on The CW.
(Image courtesy of The CW)

Follow Gina @ginascarpa