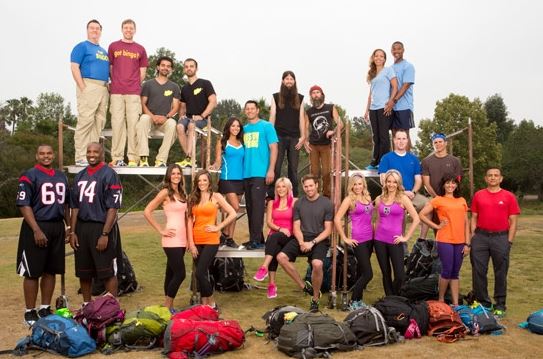 by Gina Scarpa
Last night, 11 teams met Phil Keoghan on the set of a western movie in LA, which was the starting line for this season of The Amazing Race. Once again, an Express Pass was up for grabs for the team to check in first - well, two Express Passes, actually! They could keep one but had to give the second to another team by the fifth leg. Alliances are going to need to form fast!
Teams are headed for Iquique, Chile and Oklahoma boys Tim and Danny get lost on their way to LAX. Man, if they can't navigate their way around LA, they are going to be in big trouble on this race. Cousins Leo and Jamal grab the first planet ticket, and two planes take the teams to South America.
Once there, the teams encounter their first Road Block of the season, where one member must paraglide off a cliff while the other meets them when they land in a taxi. Doctors Travis and Nicole are the first to complete it, with NFL players Chester and Ephraim hot on their trail. Meanwhile, Leo and Jamal lose their lead when two teams take the cabs that were waiting for them. Yes, Jamal called two cabs. Better safe than sorry, I guess. Wait, but he's still sorry...
Another Road Block is up ahead, and the team member who went paragliding must also maneuver a heavy rowboat around a harbor to collect five fish. What's the first rule of The Amazing Race? ALWAYS READ YOUR CLUE. Leo and Jamal, as well as Hoskote and Naina, put the wrong person in the boat. Travis and Nicole ran a stellar leg but accidentally took a taxi, instead of heading on foot, to the pit stop. They incur a 30 minute penalty, which costs them the Express Pass.
Teams arrive in the following order:
1. Tim and Marie (exes)
2. Nicole and Travis (doctors)
3. Rowan and Shane (actors)
4. Chester and Ephraim (NFL players)
5. Nicky and Kim (baseball wives)
6. Ally and Ashley (LA Kings ice crew girls)
7. Leo and Jamal (cousins)
8. Jason and Amy (dating)
9. Tim and Danny (best friends)
10. Brandon and Adam (beard lovers and friends)
11. Hoskote and Naina (father and daughter)
And so we bid farewell to Hoskote and Naina, whose time on the race was quite short lived. Any early favorites you'll be rooting for?

The Amazing Race airs Sundays at 8/7c on CBS.
(Image courtesy of CBS)

Follow Gina @ginascarpa