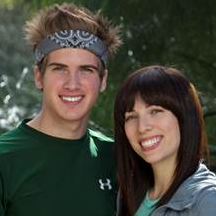 by Gina Scarpa
Young, energetic, and entertaining to watch, Joey Graceffa and Meghan Camarena could have been overlooked as a threat on The Amazing Race. Make no mistake, though, these YouTube personalities and close friends came to win. Throughout the race, they formed alliances, took advantage of the U-Turn, and took it hard when their race came to an end this week in Switzerland. We talked to the pair today in an exclusive interview about the friendships, rivalries, and fans they gained during their time on The Amazing Race.

Q. Gina, RealityWanted: Whose idea was it to audition for The Amazing Race?
A. Joey: It was my idea! I love the show, I actually watched it when I was really, really little. I never imagined I would be on The Amazing Race but the time came, I applied, and I thought, "Who better to do it with than Meghan?" She's the adventure girl, she jumps out of planes!
A. Meghan: I think I wet my pants, I was so excited! If I was ever going to do reality tv, The Amazing Race was the only one I'd want to do.
Q. Gina, RealityWanted: You guys have already made names for yourselves on YouTube. What has the fan reaction been like since you've been on the show?
A. Joey: Our fans have been so supportive of the entire thing, especially last night. We got so many tweets from people supporting us after our elimination.
A. Meghan: People were making t-shirts and every Sunday night, we would get hundreds and hundreds of people telling us how excited they were for the race.

Q. Gina, RealityWanted: This season has very much been about alliances. Who were you the closest with?
A. Joey: The derby moms, but I think if John and Jessica had stayed longer, we would've been even closer with them. We freaking love them so much! Thank god for the derby moms or we would've been dead.
A. Meghan: It was so disheartening how all the teams were treating us.
Q. Gina, RealityWanted: When I talked to Chuck and Wynona, they mentioned how they fought with you all season and they weren't rooting for you to win. I didn't realize the issues ran that deep!
A. Joey: There have been many instances where we had a small rivalry with them. In the second episode, we sprinted in front of them to get to the mat. In Vietnam, we U-Turned them.
A. Meghan: We liked them! I think they always felt like we were hot on their trails. We felt bad but it's a race! They took things personally, it was bad. We wouldn't have used the U-Turn if we knew Dave and Connor were out.

Q. Gina, RealityWanted: This week, you and Mona and Beth were convinced you were ahead of the other teams on the flight to Scotland. What made you feel so confident?
A. Joey: We saw them walking around still looking for flights. We thought they were trying to get an earlier flight. We kind of got a little too comfortable and probably should've looked for better flights.
A. Meghan: It felt like things were finally starting to go our way after Berlin. It was our fault.
Q. Gina, RealityWanted: After watching Bates and Anthony roll those whiskey barrels in the Detour, I was amazed and how you tried to move through that task as quickly as possible. It seemed so difficult!
A. Joey: It was definitely really hard. We didn't have any gloves and the ground was wet, cold, and rocky.
A. Meghan: One of my barrels had horse poop on it so that was refreshing!
Q. Gina, RealityWanted: When you arrived at the pit stop, you knew there was a good chance you were going home. Was that tough to handle?
A. Joey: Yeah... I was crying before we even got there. I knew it was over.
A. Meghan: I was pretty hopeful. I was like, "It's not over until Phil says it is!"
Q. Gina, RealityWanted: What's been the best part about being on The Amazing Race?
A. Joey: Just the crazy adventure. These are all things we would never even do. No one gets the chance to do these crazy things, like jump off a building, jet ski like you're in a James Bond movie...
A. Meghan: Racing around the world! When can you ever say that you did that? That's worth way more than the million dollar prize. Someone asked us if we would've quit the race if they offered us a million dollars, and we said no!

The Amazing Race airs Sundays at 8/7c on CBS.
(Image courtesy of CBS)

Follow Gina @ginascarpa