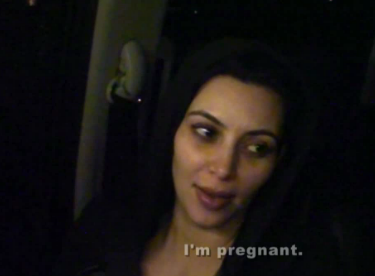 by Jessica Blackwell
When we left off, Kim had hired Jake to spy on Scott and he supposedly had some bombshell news for her. Well, that new turned out to be simply pictures of Scott getting wasted. Like we haven't seen that before! Kim was so excited to dish the "dirt" on Scott, but the joke was on her because somehow, (I suspect Khloé) Kourtney knew before she even came in the house. Kourt was so pissed that Kim got tossed out of the house, Scott Disick style! 
Kourtney tried her best to keep Kim out of her personal and business life. She went ahead and chose the location for the new Dash without including Kim on the decision and tried to keep her out of a meeting with their interior decorator. Kim showed up anyway, and despite her begging, Kourt wouldn't let her back in the house. 
When Kim called Kourt and asked her for a ride to the hospital, all the drama went out the window and Kourt was just concerned for her sister. She was even more concerned when Kim revealed that she was pregnant with Kanye's baby and was experiencing stomach pains. Kim turned out to be just fine, but now she had to figure out how to tell Khloé that she was with child. Despite her own struggles with fertility, Khloé was so happy for her sister and it was written all over her face. 
Scott wanted to be mad at Kim for the rest of her life but when he heard she was with child, his anger melted away quickly! I don't know if he was just excited that Kim was pregnant or excited that she was pregnant by Kanye. Nonetheless, everyone seems really excited about Kim's baby to be. 
Everyone headed home to L.A, except Kim, who headed to the Big Apple to spend time with her baby daddy. I would say I'm sad that it's the season finale, but this season was so staged and corny it wasn't even funny. Hopefully the new season of Keeping Up with the Kardashians brings back that authentic humor we're used to seeing from this family. Keep an eye out for the premiere! Ta ta for now! 
Kourtney and Kim take Miami airs Sundays at 9/8c on E! 
(Image courtesy of E!)