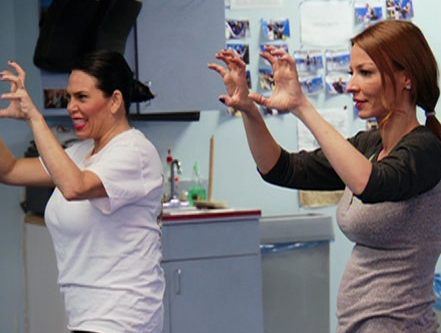 by Jessica Blackwell
You know those slow motion videos of people falling? When I'm watching them, I'm like just fall already! That's how I feel about this drama between Carla and Love! Nothing happened between them this episode, but plenty happened fir Karen and Love! 
In addition to getting an attack dog, Renee wanted to learn how to defend herself so she decided to take Krav Maga classes, which combines several different types of fighting into one crazy dangerous fighting method. Her son A.J wouldn't go with her, so she brought "the kick a** one" aka Drita and in her words, she learned how to put someone to sleep without Ambien or any other drug! Uh oh Junior, you better watch out! 
Karen finally got to meet Rebecca, the woman who's been playing house with her family while she's been in New York. The woman was too quiet for Karen's taste, but all in all she was respectful and no drama popped off. After she got that out the way, she was free to handle some real business, like cleaning her dirty dog and working on her father's case. 
She was still dealing with some guilt over her father taking the wrap for her mistakes, but Ramona promptly told her to move on. I mean, I would feel pretty guilty if my criminal father had turned legit and then went back to jail for my crimes. When she was listening to the conversations that the FBI taped of her family, she nearly had a break down. To blow off some steam, she had a little party at her house in AZ. For some reason, she invited Dave and his new girlfriend, who showed up looking constipated. This gave Ramona the perfect opportunity to grill Dave and his girlfriend. What she found was that Rebecca is actually nice, and Dave is moving on but she still wants him to reconcile with Karen. Dave might have been stirring the pot between the 2 ladies, and not giving Karen all the information that she deserves as Karina's mother. Hopefully he won't cause problems between them in the long run.
Love had a very special visitor, her ex boyfriend Fate who flew in from Vegas to see her. She was gushing over how good he looked and acting like a giddy schoolgirl, but I guess Love is really blind (no pun intended)  because he looked like a creepy retired magician to me! Seriously though, Fate seems to be the only man who has Love's heart. I hope it goes well, I like writing about them! It's like writing poetry without trying! LOLz. 
The entire episode, drama was swirling between Love and Carla without them having ever laid eyes on each other. I mean, how long is it going to take for these girls to come face to face? (signs) Let's see what happens next week. Stay tuned! 
Mob Wives airs Sundays at 8/7c on VH-1. 
(Image courtesy of VH-1)