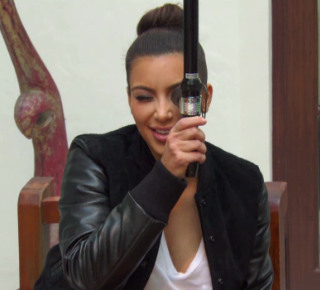 by Jessica Blackwell
OK. I've tried to go along with it, but I just can't. It's abundantly clear now that the Kardashians and E! are just making up episodes to keep ratings. This week, we entered some kind of bizarre alternate Kardashian universe where Kim gets a blood facial(aka vampire facial) and rides along with the coppers. Is this some kind of spin off? I'm confused.. 
Kim has a knack for taking her unhealthy behavior, and attempting to make it lucrative (sex tape anyone?). When the mayor enlisted the former police chief of Miami to  offer she and Kourtney keys to the city, Kim took the opportunity to hit him up for a real police ride along. Since she's always snooping around in the business of others, she thought she would be a perfect detective. 
Witnessing a call where the officers responded to a residential shooting only made Kim thirsty for more, so her friend Larsa hooked her up with a private investigator named Jake Schmidt who handles a lot of pro bono missing children cases. After showing her all his cool spy tools, he introduced her to a very real case about a missing 15 year old girl. Using her social media stalking skills, Kim located the girl's boyfriend who turned out to be a pimp. After they found out about that, the case was turned over to the police. The real police. 
Scott noticed that Kourtney wasn't trying as hard to lose the baby weight this time around. He gently let her know that by pointing out to the breasfeeding new mom tha she hasn't been trying to diet or exercise and he would like her to get down to 93 lbs. He didn't care if she was healthy doing it or not - and he tried to convince her that she wanted to lose the weight, not that he wanted her to. The LD eye patch he was wearing should have stood for Lord Douchebag - not Lord Disick. 
Next week, I hope things return to normal. Stay tuned! 
Kourtney and Kim take Miami airs Sundays at 9/8c on E! 
(Image courtesy of E!)