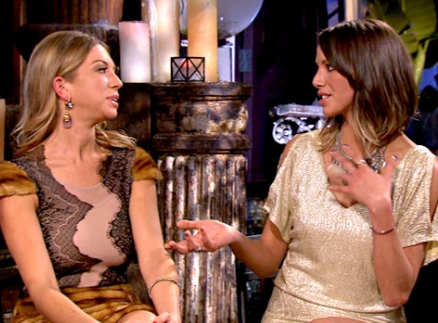 by Gina Scarpa
If you thought you've seen the last of tense moments between the staff members at Sur, you've got another thing coming! Last night, Bravo's Andy Cohen sat down with the cast of Vanderpump Rules to take a look back at their wildly successful season. We start off with the queen herself, Lisa Vanderpump, who says that it's been hard for her to watch what happened behind the scenes at her restaurant. With fights, hookups in the bathroom, and servers blowing off shifts, she saw more in eight episodes than some managers see in eight years.
Interestingly enough, everyone is still working at Sur, including Jax. Didn't he quit in the season finale? For five minutes, apparently. I knew he wouldn't be able to stay away. Lisa says now that Scheana and Brandi have talked things out, they can at least cross paths, though don't expect to see Scheana waiting on her anytime soon.
Things get uncomfortable when Andy bluntly asks if the fights between Stassi and Jax ever got physical. It turns out that Stassi packs quite a punch and busted his nose during an argument in Chicago. Jax kept reiterating that he deserved it, but then Kristen jumped in to say that Stassi wasn't just an innocent victim throughout the course of their relationship. In fact, she's heard that Stassi cheated on Jax with Frank before they broke up and Tom backs her up on the claim. Scheana jumps in to say that it's hearsay and Stassi never confessed or admitted to anything. As Stassi also mentioned to us in her interview, she and Frank did date again after filming wrapped but recently broke up again. Based on what we saw of him this season, she's better off.
When the topic of Laura Leigh comes up, Stassi refuses to admit remorse for the text messages she sent. Based on what I've seen of both girls, I have a hard time believing they were actually friends. Jax takes some heat for dumping Laura Leigh at her recovery meeting and he asks everyone to back off of him a bit but honestly, he's getting off easy! Yes, Laura Leigh is ten tons of crazy and should've known better, but he should've left that one alone.
Andy finally gets down to what happened during the finale, when Jax admitted that he did cheat on Stassi with someone in Vegas. It's hard to know who is more upset about it - Stassi or Tom. Tom can barely hold back his tears about all the lies that Jax has told. Still, even when Stassi says that Kristen, Katie, and Tom are the ones who looked dumb defending him all season, they don't agree. Stassi says that this past summer was the worst of her life and it was all documented for everyone to see and comment on. Unfortunately, that's reality tv for ya.
We end things with a hopeful Jax, who wants to reunite with Stassi. I can't even believe I'm hearing this but Stassi says "never say never" and that it would take a lot. After everything we've seen, and all of the things we didn't, these two are considering getting back together?! Are you in favor of this or do you think they're better off without each other?
(Image courtesy of Bravo)
Follow Gina @ginascarpa