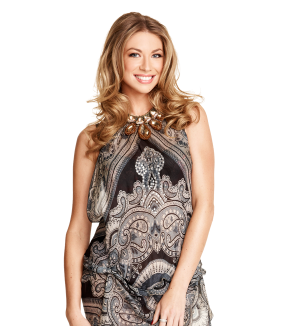 by Gina Scarpa
Of all the characters on Bravo's breakout hit Vanderpump Rules, none have been talked about more than queen bee Stassi Schroeder. Fans debated throughout the season whether they loved or hated her as she went through a breakup with Jax Taylor, began dating Frank Herlihy, suffered a falling out with Katie Maloney and Kristen Doute, and became friends with former rival Scheana Marie. As next week's season finale looms, we talked to Stassi to take a look back at the first season of Vanderpump Rules, as we hold out hope for a second one!
Q. Gina, RealityWanted: Given that you've done reality tv before, did you feel a little more prepared for this process going in than some of your castmates who were new to it?
A. Stassi: I definitely did! Having been on two shows before, I know that like, you just have to be yourself. You can't hide anything. If there's something you don't want to come out, it's going to come out. I made the decision to be myself and people don't like it, it's not my problem. I think other people struggled with that because they wanted to make sure they looked good.
Q. Gina, RealityWanted: There's been quite a strong reaction to you this season, as I'm sure you know! You seem to handle the haters pretty well. Tell us about the fan support you've received, though.
A. Stassi: You know, as the show has progressed, I gradually gained more people who really like it. I've found that people really, really love me or they really, really hate me. There's no in between with people. The people that have supported me have been really great. It's been uplifting and it helps balance out people who tweet me horrific things.
Q. Gina, RealityWanted: Which was harder to have play out this season - the breakup with Jax or the fallout between you and Katie and Kristen?
A. Stassi: That's so tough. They go hand in hand honestly, because it was the breakup with Jax that made me and Katie and Kristen have our falling out. I honestly couldn't even tell you which was worse. I guess, I would have to say Jax because there's nothing worse than going through a breakup on national television. It's really hard.
Q. Gina, RealityWanted: When you watch the episodes back, does it bring up old feelings about the people or the situation that's being shown?
A. Stassi: Not as much as I actually thought it would. I had prepared myself to be like, "Great, I'm going to relive this all over again! I'm going to hate these people all over again!" But it's been easier than I thought and I've found it's easier if we watch it together. We can laugh together whereas if I'm alone in my room, I get annoyed.
Q. Gina, RealityWanted: Can we all just assume Jax got with Laura-Leigh to get a rise out of you?
A. Stassi: I mean, I think that's pretty obvious. I knew it at the time and it really bothered me. Jax had always threatened me in fights and said, "I'm going to find one of your friends to bang." I didn't think I'd have a friend that would be that vindictive or that weak of a person. She thought it was true love and I'm like, "Bitch, please! You know exactly what he's like and how our relationship was. You're weak, sorry."
Q. Gina, RealityWanted: And what about your relationship with Frank? Was that real or were you just rebounding?
A. Stassi: That was actually one of the hardest things to watch. We actually got back together after filming. It was off and on and everything like that. I love him, I adore him. I don't know a better man. It really sucks how he came off. Every single time he was on camera happened to be his worst moment. I feel really bad about that but no, my feelings were completely real.
Q. Gina, RealityWanted: When the show first started, you really hated Scheana but now, it seems you've actually become friends. Where do the two of you stand now?
A. Stassi: I love Scheana! I can't even get over it how much I like her! I remember in the beginning, someone said, "There's a reason why you're having such a strong reaction to her. I feel like you two would be best friends." I'm the first to admit that I was an ass and I was wrong. She's a great girl, I trust her with my life.
Q. Gina, RealityWanted: Of course we know that everyone at Sur has aspirations in the entertainment industry. What's your ultimate goal?
A. Stassi: I mean, I wanna work in fashion! I've been addicted to fashion since I was a kid. I love writing and I majored in English Literature at Loyola Marymount University. I have my column, writing about fashion on a budget. People here in LA have money but I'm a waitress. I'm poor and I've had to learn how to look good without having millions of dollars.
Q. Gina, RealityWanted: Would you be up for a second season of Vanderpump Rules?
A. Stassi: Of course! I've had the time of my life and I'm so thankful to Bravo and Evolution and the producers who gave us an opportunity. Fingers crossed that we get a second season! I have it in my head that we already have a second season. I'm just waiting for the call.
Q. Gina, RealityWanted: I can only imagine what it's like at Sur these days, considering how popular the show is.
A. Stassi: It's insane! I can't even begin to tell you. Every single table I have is a fan of the show, so it's so weird because they want to take your photo. I'm like, "Okay, do you wanna hear specials?" I hate to say it but sometimes it bothers me because we have this hit tv show and I'm still waiting tables. It's so weird, I can't even describe it! The restaurant is packed 24/7.
Keep up with Stassi on her blog and @stassischroeder! Check out our interviews with fellow Vanderpump Rules cast members Jax, Tom, and Katie.
Vanderpump Rules airs Mondays at 9/8c on Bravo.
(Image courtesy of Bravo)
Follow Gina @ginascarpa