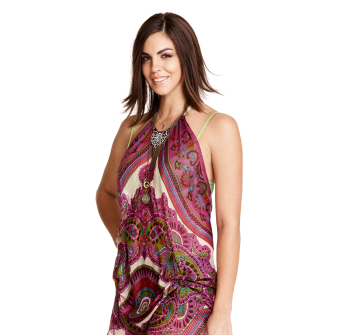 by Gina Scarpa
Katie Maloney and Stassi Shroeder have been close for years but the Sur coworkers have had their friendship put to the test this season on Bravo's Vanderpump Rules. When Stassi ended things with boyfriend Jax Taylor, and took up with Sur bartender Frank Herlihy, Katie couldn't keep her concerns to herself. She reconciled with Stassi on this week's episode and we talked about friendships, her relationship with Tom Schwartz, and her big dream in our exclusive interview.
Q. Gina, RealityWanted: Did you have reservations about doing Vanderpump Rules and putting your life out there on a reality show?
A. Katie: Well, of course there are reservations. I think anybody would feel a little bit reluctant. I was signing on with all of my best friends, and the people I was closest with. That kind of gave me that confidence that it would be a positive experience and we'd all be there for each other. I figured it was an opportunity! Who works at a restaurant and gets to be on a tv show?
Q. Gina, RealityWanted: When I spoke to Jax and Tom, they both made it a point to say that you have all been friends for years. This isn't some group that Bravo threw together just for the sake of making a television show.
A. Katie: Exactly. I mean, it might not show too much on the show but we have jokes and we know each other on a very personal level.
Q. Gina, RealityWanted: Because of all the drama surrounding Stassi and Jax, we haven't seen too much of your relationship with Tom Schwartz. We want to know more about you guys!
A. Katie: Tom and I definitely have a very quirky romance. We both love to laugh and when we're in group, we're little clowns. We have this little baby talk that we do and we call each other Bubba. Kristen and Tom and Jax are always like, "Ugh, don't say that!" We're best friends and we live together now. We have a really strong relationship and we know where it's going.
Q. Gina, RealityWanted: Was it hard to watch the Vegas episode back, when everyone was fighting at Stassi's birthday dinner? Does it take you back to how you felt in that moment?
A. Katie: It definitely does! It's not as hard to watch as I thought it would be. I thought I'd be cringing. I do kind of watch it and think back about what happened. It was kind of a blur when it was happening. I was in shock about what was going on around me. It's more painful to watch the aftermath of Stassi not fully realizing what had happened that night.
Q. Gina, RealityWanted: As I get to talk to each of you, I'm learning more about everyone than we see on the episodes. What do you want people to know about you and what haven't we seen?
A. Katie: I'm a very opinionated person and I do stand my ground. I just tend to take a different route. I would rather let something go than make a mountain out of a molehill. I wish there was a little bit more of me giving my opinion and saying how I felt. Especially with Stassi... I was in support of her breakup with Jax. I thought it was healthy and a mature decision. I've always been Stassi's older sister. When she's upset, she calls me and I give her advice. I tend to give a more objective point of view. I try to give the big picture and that's what was happening when Frank came into the picture. I was like, "Hold on, you just broke up. Let's think about this!"
Q. Gina, RealityWanted: The fan reaction has been huge and everyone wants to see the show return for at least another season. Is that something you would want?
A. Katie: Oh my gosh, the reaction has been amazing. It's really exciting to see people responding in dramatic and extreme ways, and really loving the show. I would be more than happy if we went to season 2, especially now being a little stronger and braver. I would love to!
Q. Gina, RealityWanted: We know everyone at Sur has bigger plans than working at the restaurant. What's your ultimate goal and what are you up to presently?
A. Katie: My ultimate goal would be to own a small record label that was also under the umbrella of a music supervision company as well - doing songs for movies and television, work with artists and supervise them. That's kind of my main goal. I'm also really open to other opportunities. Presently, I'm trying to figure out what my steps are to starting a company. I didn't go to business school so it's learn as you go, talk to people, and go from there.
Follow Katie on Twitter and Instagram @MusicKillsKate and check out our interviews with fellow Vanderpump Rules cast members Jax Taylor and Tom Sandoval.

Vanderpump Rules airs Mondays at at a new time, 9/8c on Bravo.
(Image courtesy of Bravo)

Follow Gina @ginascarpa