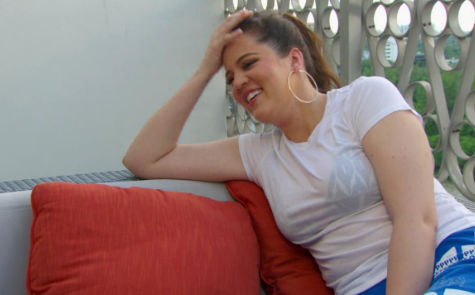 by Jessica Blackwell
And we're back for part two of the super season premiere with our favorite Kardashian ladies! 
Kourtney decided that wearing deodorant is bad for breastfeeding, and her lack of protection plus the Miami heat was making her reek. Scott tried to take the nice route and refrain from telling her that she stinks, but when Khloé realized there was something rotten in Denmark, she was determined to put an end to it. 
While perusing office spaces with Khloé, Scott met Chapman Ducote, the race car driver. With their matching full heads of hair and similar interests, Khloé joked that they were a match made in heaven. Seriously though, if Scott ever left Kourtney for a dude, if would be this guy. Scott came home with the biggest hard on, excited to tell Kourtney all about his new bromance, but to his dismay she was more interested in sniffing her breast milk. She did take a break from smelling long enough to tell Scott that she doesn't think it's safe to drive a race car. Hard on deflated! 
Kourt agreed to go out and meet Chapman and his wife, despite the fact that she was harried with two kids. Scott was scared that her BO would scare them off, but he still didn't tell her to put on deodorant. When the topic of racing came up again, Kourt wasn't having it and even forbade him from doing it. Of course, he did it anyway and lied about where he went. He got away with it a few times, but then he got in a crash on the track and Chapman's wife had to call Kourtney and let her know they were in the hospital. Once Kourtney realized he was ok, she let him have it. He apologized for lying, but got her to understand that he's not going to give up the hobby just because she says so. 
Khloé had finally had enough of Kourt's BO and not so subtly offered her various sticks of deodorant. Kourtney refused it, citing chemicals as the reason. Apparently she doesn't use any chemicals on her body when she's pregnant or breastfeeding. Despite the negative uh, side effects, that's really smart. Who knows that the effects of chemicals on tiny babies is?
Kim revealed that her fertility specialist advised her to get off birth control to give her body a break. Well, now we know how she got knocked up by Kanye! Kim's hormones were so low that her egg count is the same as a woman in her 50's, so I don't blame her for wanting to have a baby while she had the chance. 
Instead of dealing with her emotions about the news, she decided to lash out at Kourtney and deny that she even wants children. First, she reprimanded her for wearing sweats in the middle of the afternoon, because you know, no one does that, and then she insulted her weight when she tried to put on a dress. Then at a restaurant she launched into this tirade about how boring Kourtney is now that she has kids and how she is thankful that she doesn't have them. Kourtney flipped out on her, and tried to leave without even giving Kim and Khloé a ride home. She eventually gave them a ride home, but refused to let Kim sit in the front with her. 
Kim finally told Khloé and Kourtney what was going on with her, and apologized to Kourtney. She for really emotional about the possibility that she would never be a mom, but the scene was easy to watch since we now know her uterus is currently infested with Kanye's embryo. 
Next week, it looks like Lord Disick is back to his old tricks! Stay tuned! 
Kourtney and Kim take Miami airs Sundays at 9/8c on E! 
(Image courtesy of E!)