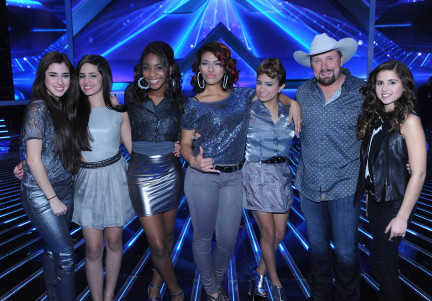 by Todd Betzold
It all comes down to this tonight for the Top 3 acts on The X Factor, as Season 2 comes to an end tomorrow when the winner will be announced! Will it be Carly Rose Sonenclar, Tate Stevens or Fifth Harmony? It all depends on how America votes, so the acts have to perform big time tonight.
The show starts out with a message from Simon Cowell regarding the shooting at Sandy Hook Elementary and the Top 12 acts sing a tribute in their honor. They sing "You Are Not Alone" and I am not impressed by it. The Voice did the same thing and kept it simple, but The X Factor can't do that. They all wear white, but it had too much production to it and I was not impressed. They end with the names on the stage of all the victims, but it didn't seem heartfelt to me.
Well, maybe it wasn't that much production compared to how they started the show with the drums and dancers and the judges coming out. This show can be a joke sometimes!
Carly Rose Sonenclar (Teens) - "Feelin' Good" by Nina Simone
This was her audition song and we are being brought back to the very beginning for Carly. I loved her after her first audition and I love her even more tonight. She has such a strong voice and it amazes me still that she is only 13 years old. L.A. said she has topped everything that she has done. Demi said it is cool to see someone so young command the stage and she is so impressed. Simon said she sang it better tonight than she sang it the first time and he likes her competitive spirit. Britney said it is so shocking how bright her star is and we are going to win this.
Tate Stevens (Over 25s) - "Anything Goes" by Randy Houser
I guess the singers are starting out with their audition song, so Tate sings his song. How can you not be rooting for this guy to win? He has the story and the voice and he has the biggest need to win. He has a great voice and is most deserving. Demi said she still loves him and still obsessed with him. Simon said he is made in America and he is authentic and maintained his integrity. L.A. said you were lovable the day we met you and you were lovable tonight.
Fifth Harmony (Groups) - "Anything Could Happen" by Ellie Goulding
Simon said this was the moment where he saw something special in these girls and knew the lyrics fit them. I did not like it the first time they sang this and I feel it was even worse tonight. L.A. said it is magical and now they are the ones to beat. Britney said it is magic when they perform. Demi said they are so powerful together and she is so impressed. Simon said they have made him so proud tonight.
Carly Rose Sonenclar (Teens) - "How Do I Live" by LeAnn Rimes
They all act like we don't know what is going on tonight and it is a big surprise, but Carly sings with LeAnn during the song. This is not a great performance by Carly Rose, which I am sad to say. LeAnn sounded super rough on this song and couldn't even hit the notes of her own song. Carly kicked it in as the song went on, but it was a rough start. Britney said she was proud and loved it.
Tate Stevens (Over 25s) - "Pontoon" by Little Big Town
Of course, Tate is joined by Little Big Town for this performance. I am a fan of this song and Tate sounded so cool singing it on his own. He had some pitch problems and had issues hitting the higher notes, but he was having fun and I loved it. He did sound good when singing with the group though. L.A. said it was so much fun and he looked so natural.
Fifth Harmony (Groups) - "Give Your Heart A Break" by Demi Lovato
For their performance, Fifth Harmony gets to sing with Demi Lovato. It was a good performance and they sounded good, but let me rant! Fifth Harmony has now sung twice tonight and both songs they have performed before on the show. Are they too busy to learn a new song? I think that puts them at an advantage because they didn't have to learn anything new tonight so far.
Carly Rose Sonenclar (Teens) - "Hallelujah" by Jeff Buckley
Carly ends her run on The X Factor singing this song? She has an amazing voice and of course does a great job on this song, but come on. She is 13 and I want something different from her. Anyone else? L.A. said it was a real angelic moment. Demi said she not only looked like an angel, but she sounded like a ridiculously talented angel. Simon said beautiful version of that song and she has had a good night. Britney said that song alone was worth $5 million, so get out your checkbook Simon.
Tate Stevens (Over 25s) - "Tomorrow" by Chris Young
This is what Tate does best and he rocked it out for his last performance. He is a strong country singer and if he doesn't win, I so hope someone signs this man to a recording contract! Britney said it was great, but she always enjoys what he does. Demi said she is going to miss him performing and he is so talented. Simon said this has been a fantastic night for talent and he wouldn't worry about his day job and he has had a really good night. L.A. said he has consistently come out and delivered and he owes his family a big thank you.
Fifth Harmony (Groups) - "Let It Be" by The Beatles
This is one of Simon's favorite songs of all time, so he has his girls sing it. They actually do a really good job on it. I think it was a solid performance, but one solid performance out of the whole night is not worth $5 million to me. L.A. said that was beautiful and they are beautiful. Britney said they have truly blossomed as a group and that was great. Demi said it just hit her how much they have evolved and grown. Simon said they are not a group, but they are five great singers and they deserve to win this competition.
The X Factor airs on Wednesdays and Thursdays at 8/7c on FOX.
(Image courtesy of FOX)
Follow Todd on Twitter @TopicalTodd