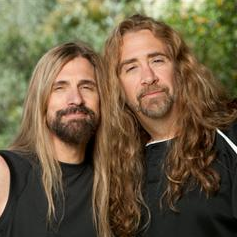 by Gina Scarpa
It's safe to say that James and Abba did not have the best of luck this season on The Amazing Race. From dealing with a sick parent back home to having their money stolen (by a fellow team no less) in Bangladesh to losing their passports in Russia, it was a constant emotional rollercoaster for the rocker and entertainment lawyer. Yet, the friends always kept it classy and remained positive all the way up until their elimination this week. We talked to them today in an exclusive interview to find out what they really thought of their money being taken, trying to track down their passports, and whether or not they'd be ready for a second chance on The Amazing Race.
Q. Gina, RealityWanted: Whose idea was it to do The Amazing Race?
A. James: This is where we point to each other and say, "It was his idea!" Abba was the fan of the show and I had seen it a few times.
Q. Gina, RealityWanted: And did you do any preparation before leaving to compete?
A. James: We just kept losing our passports! No, I spent a lot of time running under the Hollywood sign. You have to take it seriously because you're going to be running.
Q. Gina, RealityWanted: I'm sure everyone wants to know when you found out the real story about how your money went missing.
A. Abba: I was sitting on my couch and was watching the commercial two days before the show started airing. We had taken a van in Bangladesh and each one of us had a bench seat. I had laid down and fallen asleep. I thought the money had fallen out and was fearing that episode. When I first saw the commercial for that episode, I shot off the couch and called James like, "Oh my god! Did you see what happened?" I don't think that you drive forward looking in the rearview mirror. We're disappointed definitely, we got along with both teams and now we know something different.
A. James: It brings you back to the notion about it being a competitive game. It's more of a moral thing that they have to deal with. They were exposed on tv with that.
A. Abba: They felt the wrath and scorn of the public. We chose to go a different way. We had the opportunity to solve a problem, which we did. I think we were mature and classy and it was one of my favorite days of the whole race. We wound up meeting a whole lot of Bangladeshi people. It was roundabout way of getting to something positive.
Q. Gina, RealityWanted: How much time did you spend looking for your passports after you first checked in in Russia?
A. James: As soon as we checked in, and Phil informed us that we weren't out of the game just yet, we went and got a hotel and got right on it.
A. Abba: At that time, we could have conceded and quit but because the other two teams were out on the course, you could head back out. They were hours and hours behind us. We wound up going and doing as much as we could. It was a Russian holiday so everything was closed. Had it been a Tuesday, maybe things would've turned out differently but if my aunt had a wiener, she might be my uncle.
Q. Gina, RealityWanted: That might be the greatest thing any Amazing Race team has ever said to me! Was it tough to run that last leg, without knowing if you'd track your passports down?
A. Abba: We had a different Speed Bump, you could say.
A. James: We kind of hoped that something would happen. We stopped at a bunch of police stations and put out as much information as we could. We were hoping it would turn up somewhere. It was mostly language as the biggest problem. At the police station, it was pure Russian. At one point, you saw on the episode, a young man stopped by and we asked him to help us and he spent hours translating. We couldn't do anything until we filled out the forms. It was definitely a tough situation.
A. Abba: With that, it was like, we know we're dead, what are we gonna run to the electric chair for? There was sort of an appreciation for what we were going through even though we knew what was happening. We went by a church, the bells started ringing, the Speed Bump with the priest... we made the most out of a pretty crappy day.
Q. Gina, RealityWanted: There are many fans who would love to see you return for all star edition or second shot at the money. I assume if The Amazing Race called you right now...
A. Abba: I would leave right now, I wouldn't even pack.
A. James: Now see, that's what got us into this in the first place!
A. Abba: It was an honor to be on the show, it's an amazing show. When you see the production, it's unbelievable! And again the world is brought to your living room. It's something special and it's a wonderful situation. It's the best reality show on tv, period, the end.

The Amazing Race airs Sundays at 8/7c on CBS.
(Image courtesy of CBS)

Follow Gina @ginascarpa