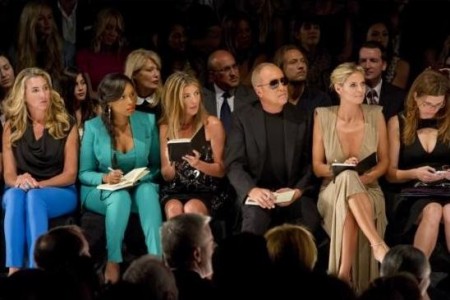 by Todd Betzold

Last week on Project Runway, we saw the final four designers present samples of their collections to the judges in hopes of making to Fashion Week to show their complete collections. While the judges were underwhelmed by what the designers presented to them, all four designers made it to Fashion Week and now let the drama unfold as they redo their collections in two days and hit the final runway show of Project Runway Season 10!
The designers head back to their hotel and have a relaxing night of playing pool and talking before the madness and chaos starts the next morning. They have two days now to work on their collections and fix them and fix the styling and make the judges happy on the final runway show at Fashion Week. None of the designers felt great about their collections after the judges seem to rip them apart and they all have work to do. Fabio needs to make it look more sophisticated, Dmitry needs to look younger and sexier, Christopher needs more wow and Melissa needs more color, so is going with color and a dress.
Tim Gunn comes in and tells them they are going to Mood and have 30 minutes and a $300 budget to help add to their collections in the next two days. Melissa is happy, seeming she is out of fabric and needs color. They get back and Christopher seems lost and not confident in what he is doing, which seems to be happening to him the past few weeks when he started so strong.
After a hair consultation with the models, Christopher is feeling more and more anxiety about every decision he is making. Now the models come in for the final model fitting and Christopher is again not ready for them and freaking. Fabio thinks he has made the changes to look more sophisticated and Dmitry feels his collection is more sexy now. Melissa has a white dress that looks great, but the model is not able to walk good in the dress. The day ends and the designers are surprised the day went by so fast.
They arrive again in the workroom and one more day before the big runway show. They have their makeup consultation today along with finishing up their looks. Christopher is feeling more confident after the consultation, unlike after the hair consultation. Melissa is going with a more fresh face since the judges didn't like her makeup last time.
Tim comes in again and checks on the looks of the designers. He loves the blood-orange dress that Melissa has added to the collection, which Christopher said it is red, not blood-orange. Christopher keeps wanting to make more and more looks and Tim tells him to finish up what he has and lets nail this. For Fabio, Tim tells him he had an epiphany and he changed his looks and it gave him goosebumps.
Christopher and Melissa are running around like crazy as Fabio and Dmitry are just sitting back and relaxing. Tim comes in and they have 15 minutes before he comes back to pack it up. Christopher seems to be crashing and burning and it is all falling apart. He looks like a hot mess and I don't get it...get out of your head Christopher!
The designers wakeup and it is time for the final runway show at Fashion Week in Lincoln Center! They arrive inside and get chills from how huge it is and how many people will be there to see them.
The models start arriving and the work begins and things are all going crazy in the back. Dmitry's models are still getting hair and makeup done, so he needs to be quick to get them dressed. Melissa's red dress fits perfect, but she is worried about the white dress (I think something is going to go wrong with it because they have been focusing it). Christopher's model gets caught in the bottom of the dress and he starts cutting it and ripping the bottom to get it to work on the runway.
Heidi Klum comes out for the runway show and the judges tonight are Heidi, Michael Kors, Nina Garcia and guest judge this week is Jennifer Hudson (love her). Christopher is first and I am liking it. He had a blue jacket that was so cool. He has a lot of leather, but it is working with the material he created. The final dress the model works it with and no tripping or ripping. It is a great look and he freaked about nothing! It is a huge improvement over his samples he showed.
Melissa is next and she comes out in the white jacket and cut off the sleeves like Nina wanted her to. She has a lot of black and white, but I am loving her looks. The white dress makes it down, but the model looks awkward walking in it. Her new red dress she made is amazing and I love the collars that she does.
The nest designer is Dmitry and he has good looks, but to be honest I am bored with it. He can make great clothes, but they all seem to bore me and look the same and I am seeing the old look to them. There is a black dress in it that looks amazing and is very well done. I think he is strong, but winner strong? No thanks.
The last designer to show is Fabio and he had me when it first started and I thought I was going to be in love. It got weak towards the middle and seemed like the same looks, but he brought it back strong towards the end though and it was decent. After seeing all the looks, I am going with Christopher winning it all!
The judges and designers make their way to the runway and Heidi said she is very proud of all of them and they added complexity in two days. For Dmitry, Heidi said he put on a beautiful show and he is a great designer. Michael said his clothes are impeccably made and look expensive. Nina said she adored the fringe jacket with the cool pants and she loves when he gets more modern and hip and most of his looks were highly editorial. Jennifer said it was such great quality and it was rich. For Melissa, Michael said she understands how to design for a girl because she is a girl, but she did send a girl down that the model couldn't walk in. Jennifer said she loved that dress, but it should have been tailored in the waist more than in the ankles. Nina said she thought the red dress was great and there is coolness to her clothes, but they are sexy without being too slutty.
For Christopher, Michael said when his first look turned the corner it was ka-boom and the gown was pretty, but it didn't belong in that show. Jennifer said she loved the leather skirt. Heidi said she loved the shoulder dress and he did a good job. Nina said he has the most wonderful ability to take a fabric and make it look light. For Fabio, Heidi said she loved, loved, loved it and everything they saw was dark, but he was so fresh and it is him. Nina said he listened and it looks sophisticated and cool. Michael said the minute it started the ying and yang thing is really working. Jennifer said he completely owned it and he nailed the layers and job well done.
The models leave the runway and the designers tell them why they should win this season and then the judges discuss who they will pick as the winner. By their initial critiques it looks like Dmitry winning, since he did not get any bad critiques. They said Christopher was all over the place, Melissa had no sense of surprise with what they have seen from her, Fabio was a bug surprise and they all loved it and Dmitry was polished and on his game and his clothes are so commercial.
After seeing this discussion, I am thinking the judges are going to go with Fabio. Jennifer said it best and that Dmitry can make it on his own once this is done, but Fabio will have a harder time because it is so original and he needs that extra push. The designers come back to the runway and it is time to find out the winner.
Heidi tells Christopher that he still needs to find his voice as a designer and he is out. Melissa is out, but they do believe they will see her in the future. Now it is down to Fabio and Dmitry. The winner of Project Runway Season 10 is...Dmitry. Fabio may have lost, but he won me over with his speech after and I so want him to win now!
Project Runway airs Thursdays at 9/8c on Lifetime.
(Image courtesy of Lifetime)
Follow Todd on Twitter @TopicalTodd