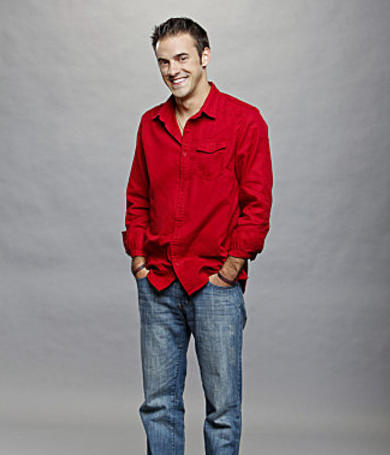 by Gina Scarpa
The debate over who the greatest Big Brother houseguest of all time is will probably continue for years, but two time player Dan Gheesling is just happy to be at the top of the list. After winning Season 10 unanimously, he returned for Season 14 as a coach. When he was thrown into the game as a player vying for the $250,000 grand prize though, he played a different game than we had seen in the past. His often ruthless ways at times may have rubbed some the wrong way but there's no denying that he kept things surprising and entertaining all season long. After losing to Ian Terry in a 6-1 vote on the finale, Dan headed home empty handed but his legacy will most certainly live on. We talked to Dan in an exclusive interview to take a look back at one of the best Big Brother seasons and life for him since.
Q. Gina, RealityWanted: Any hesitation about coming back to play Big Brother? Were you worried at all about hurting your legacy as a former winner?
A. Dan: That's a really good question. Most definitely concerned about coming back. My biggest concern was that my team would be targeted for no other reason than I was a coach. I wanted to come in and have a shot to play without having to fight off people every single turn. There was a part of me that thought "I won unanimously before. If I get voted out 7th, 5th, or 4th, that's a failure." I put a lot of pressure on myself and wanted to go down as one of the best to ever play this game.
Q. Gina, RealityWanted: You came into the game with a very different strategy this season, swearing on everything and anything to gain people's trust and keep yourself in the game. You must have told your wife you were going to do what you needed to do, even if it meant bring her name into it.
A. Dan: We definitely talked... first of all, there's no way I was going into the house without her approval. I'm married and I can't do whatever I want. I had to make sure she was cool with it and she was. We both agreed that the only boundary for me was not doing anything inappropriate with a girl. I was not willing to get close to that line, never mind cross. I took some heat this season for how things went down but at the end of the day, that's how I got to the end and I'd do it again. It's just a game. I'm not a serial killer. I'm not!
Q. Gina, RealityWanted: You seemed dead in the water at the beginning, losing Jodi on the first night and Kara soon after. When was the turning point in the game where you realized you may actually be able to stick around and go far?
A. Dan: I think early on, Danielle was up against Jojo. That was the chance to get me out of the house. That was my highest point of concern in the house until much later on. Once I survived, I was like, "You have a shot here." You had the chance to get rid of two people at once, why would you not do that?
Q. Gina, RealityWanted: Who would have been your first choice to have on your team as a player?
A. Dan: I think, looking back, I'm happy the way things went down draft wise. I really liked Kara. All the Type-A personalities are doing is telling each other how great they are. Kara sat back, listened to people, and asked questions. She was very in tune with what was going on. I might have taken her first anyway. Kara was my worst fear come true. She felt the wrath for something she didn't have anything to do with. That was the toughest eviction for me. As a coach, I don't take that lightly. I felt ultimately responsible for her. She could've made it far.
Q. Gina, RealityWanted: What did you think of Danielle as a player initially and did your opinion of her change as the season went on?
A. Dan: I almost didn't draft Danielle but here's the analogy I gave. She was very adamant and almost overbearing about how bad she wanted me to draft her. It almost turned me off to not draft her, but this is the analogy. You can coach someone who's more talented but they may not wanna play for you or you can draft someone who may not be as talented but they're willing to run through a wall for you. I knew she was willing to do that even though she rubbed me a little bit the wrong way.
Q. Gina, RealityWanted: I said all season that I thought your intentions were genuine in wanting to take Danielle to the end, especially with your book. If you won, you've shown that you can win this extremely difficult game twice. If Danielle won, you've shown that not only can you win, but you can coach a player to victory as well. Was that in your mind throughout the summer?
A. Dan: As a businessman, that was definitely in my head. I'm not gonna lie! When it got down to it, I felt if I took her, I didn't even have a fighting chance to win. I wouldn't even have a chance to fight. I was convinced based on the information in the house, she would've beaten me or Ian.
Q. Gina, RealityWanted: Before Ian made his speech on finale night, were you confident that you had won?
A. Dan: No, this time around, I knew I had played a different game and ticked a lot of people off. My goal was to get to the final two seat and convince people to vote for me. I thought it was gonna be a dogfight and we each had two locked in votes and fight for Frank, Ashley, and Joe. Soon as I saw Jenn didn't vote for me, I knew it was curtains.
Q. Gina, RealityWanted: Many fans call you the greatest Big Brother player ever, but Julie Chen still says it's Dr. Will because he didn't have to swear on things like the bible in order to get further in the game. What do you think?
A. Dan: For me, to be mentioned in that top category of players is an honor. We both have our strengths. Dr. Will didn't have to do certain things, but he got voted out and I didn't. It's like comparing two players from two different eras.
Q. Gina, RealityWanted: What's your relationship like with the houseguests now? Is it all water under the bridge for you?
A. Dan: For me, it is. When I came on, I told all the new players, if there was anything I could do during the decompression mode coming out of the house, I would. It's difficult to come out of the house. If I said I talked to everyone or they'd be happy to talk to me, I'd be lying. I'm hopeful they'll come around. I talk to Brittany a lot, Janelle, Kara, and Ian and Frank a little bit. I don't have a problem with anyone.
Q. Gina, RealityWanted: I always wonder what that decompression mode is like for you guys...
A. Dan: It's a lot easier for me this time around. Before, I struggled with it. My struggles with it are when I'm unconscious, when I'm falling asleep or waking up. I told a story a few days ago. I woke up really early in the morning and I ran down to my living room because I was expecting there to be some kind of a challenge. When I saw my dog, I was like, "Okay, there's no challenge going on." You have to work through some things. It's the moments when I fall asleep or wake up.
Q. Gina, RealityWanted: What do you have going on now?
A. Dan: Right now, there's a lot of things going on. CAA, which is an agency in Hollywood, signed me to speak at colleges across the country. I was really flattered and that was unexpected. I'm gonna be writing a fourth book and I'm coaching individuals. There's a program through my website and that starts in November. I'm doing a director's commentary over the season as well. I held off watching the episodes because I wanted to watch them for the first time and record myself. I'm doing that for this season of Big Brother and you can check it out CoachDanCommentary.com. I have a YouTube channel as well! I'm really busy and I'm enjoying interacting with the people that supported me. This has been a dream of lifetime.
(Image courtesy of CBS)
Follow Gina @ginascarpa