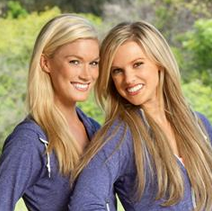 by Gina Scarpa
In 21 seasons of The Amazing Race, we've seen time and time again how a lost cab driver can derail a team and cost them a shot at the million dollar grand prize. This week, in Indonesia, Caitlin and Brittany were at the mercy of a pedicab driver who was unsure of where he was going. They fell to the bottom of the pack and it came down to a close race with Gary and Will, but the girls took yet another wrong turn and arrived at the mat last. We talked to them today in an exclusive interview about their partnership in the race, the teams they were working with, and how they feel about their elimination.
Q. Gina, RealityWanted: Why did you want to audition for The Amazing Race and did you have any fears or worries going in?
A. Brittany: It was one of those things where I always had it on my bucket list. I wanted to do this and The Price Is Right! Caitlin and I are so competitive and it was one of those things where I knew she'd be the perfect partner. We definitely did not have any fears. If you're fearful or doubtful, why are you here? Who knows what you're going to do next on this race?
Q. Gina, RealityWanted: What makes the two of you such a good team?
A. Caitlin: I think both of us are just very competitive, we come from sports backgrounds. With Brittany, she's in medical sales so she's always on her feet and is outspoken. She likes to make quick decisions. I'm kind of more laid back and go with the flow. In hectic situations, I can try to maybe calm her down and she can pep me up when I need to get going. It's a good mix but we know each other so well, so we never let it get to the point where we were mentally breaking each other down.
Q. Gina, RealityWanted: Heading to China for the first leg of the race must have been pretty intense. What was it like for you?
A. Caitlin: Yeah, the first leg, I think we were immediately having to run and do a ton on our feet after what was a 17 hour flight. We were just happy at that point that we had been training for it and been running. You really don't realize how heavy your backpacks become when you have it on for that long. Shanghai was a really big challenge right away. We got lucky that we were able to get to the places and not get lost in the first leg.
Q. Gina, RealityWanted: Which teams stood out to you as a threat in the very beginning and who were you working with along the way?
A. Brittany: I think going into it, you really don't know because you're not able to talk to teams until the start. The Chippendales, they're a guy team, they're built, and they're two guys we thought were competition. We knew the rockers were street smart, book smart, and would play the game well. Then, you have Abbie and Ryan and the twins. Amy and Daniel were a great team. We worked well with the Chippendales right from the beginning, along with the twins, Amy and Daniel, and Abbie and Ryan.
Q. Gina, RealityWanted: During this week's leg of the race, how long were you going around looking for the U-Turn?
A. Brittany: Basically, at the end, what had happened before was that we were the sixth team and did the Detour. They showed us competing with Will and Gary at the end. They tried to make it look more suspenseful. We had left and the driver took us on a different route. We were not even able to see the U-Turn. Our driver passed it again and we saw it over our shoulder and told them to stop.
Q. Gina, RealityWanted: Was it tough that your elimination came from something that was out of your control in some ways?
A. Caitlin: Yeah, I mean, that was frustrating for us but then after it was all done and over with, we were talking about it. For us, if we weren't able to complete a challenge or something physically, I think that would've probably weighed on us a little more. That's what we always knew going in, was that we weren't scared of any challenges. It was annoying that it was out of control but I'd rather have that than not be able to finish a task.
Q. Gina, RealityWanted: Did being on The Amazing Race inspire you to want to travel more?
A. Brittany: I mean, of course, being able to travel the world and see every country as we did and be able to do the tasks and challenges and experience different cultures is something we were blessed to be a part of. We'd love to travel the rest of our lives but The Amazing Race encouraged us to always keep going and never give up.

The Amazing Race airs Sundays at 8/7c on CBS.
(Image courtesy of CBS)

Follow Gina @ginascarpa