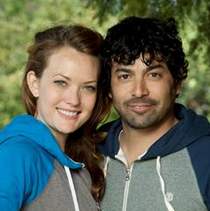 by Gina Scarpa
On the season premiere of The Amazing Race, Amy and Daniel looked like a team to watch. They could have finished first, but lost to Abbie and Ryan in a footrace after pointing them in the right direction. In the second leg though, the pair got seriously lost in Indonesia trying to find the motor shop where the Road Block tasks awaited them. They lost so much time that they ended up checking in last at the mat, then received the heartbreaking news from Phil that they had been eliminated. We talked to the pair today in an exclusive interview about the status of their relationship, leaving The Amazing Race far too soon, and the experience of meeting the local people.
Q. Gina, RealityWanted: What made you want to run the race, as well as run it together?
A. Daniel: Well, we are definitely extremely comfortable together. We've been together for a long time and we run a non-profit organization so we're already a fantastic team. We're very competitive, we're both snowboard racers. Amy is trying to make the Paralympics team for 2014. We've always been huge fans of the race and we've watched for many seasons.
Q. Gina, RealityWanted: The show portrayed you as an on again, off again couple but you seemed to be pretty happy together...
A. Daniel: We're an extremely happy couple. We're living in Colorado and our adventure is continuing on. Yeah, we're definitely very much ON, happily.
Q. Gina, RealityWanted: You did so well in the first leg of the race. How were you feeling afterwards?
A. Amy: I mean, it takes that first leg to just wrap your head around how the race works. You're dropped off in some city and running around. You don't know how long the race goes, and how long each challenge takes. It takes that first leg to grasp everything. We went in that next day feeling so confident. The choices we made the first day that we could do better on, we kept that in mind.
Q. Gina, RealityWanted: Right, so after helping Abbie and Ryan in the first leg and finishing second to them, did you go into the second leg with a different mindset or strategy?
A. Amy: When we shared that information, that honestly was just our natural instinct. We run a non-profit, as Daniel said, and we help people on a daily basis. It was kind of hard wired in us and they caught us when our guard was down. You have these spurts of competitive intenseness and then you take these moments to relax. They happened to catch us in that time. Certainly, the next day, after dealing with that, we went in knowing that situation may happen again and we were a little more prepared.
Q. Gina, RealityWanted: It was quite a challenge for you guys to find Wijaya Motor Shop in Indonesia. How long were you driving around in the taxi looking for it?
A. Daniel: It felt like forever! It was impossible... we weren't keeping time. We had our heads down trying to find the next stop and we were extremely proactive. There weren't cell phones or internet around every corner. That wasn't even the opportunity to call information, as you saw. You're at the mercy of locals and they don't even have the ability to call dispatch. They were extremely helpful. They constantly gave us a new Wijaya Motor to go to, it just wasn't the correct one There's dozens in that area. We visited every one.
A. Amy: Our taxi drivers were so nice. All the Indonesian people were so helpful. We kept in mind that we're racing for a million dollars, but we're not going to get upset at other people throughout the race. We know good sportsmanship and it's a team that helps you out and our team were the taxi drivers and the locals.
Q. Gina, RealityWanted: Were you feeling hopeful that you would be able to pass another team or was it starting to get in your head that you were going to be last?
A. Daniel: We really didn't know, although we went back to the balloon challenge twice and saw other teams there. We knew we were still in it but then we went back out into the city and continued to be lost. We were always hopeful and had our fingers crossed that it would be a non-elimination round. You can see we were all smiles and you could see in our eyes that we were like, "We know we're last but..." and then of course, the reaction was heartbreaking.
A. Amy: My legs felt so good, too. Going on the race, I knew possibly my disadvantage was that I've got prosthetics but they felt so good at that point. I knew I could run the entire race. The disappointing part was having so much more in us. As athletes, you have that fire inside of you to accomplish something and nail what you're going after.
Q. Gina, RealityWanted: And so, how did you handle your elimination? Did it take you somet time to get over?
A. Amy: When we walked away, it was a huge shock for us because we had done so well. If the race was just about the challenges, we'd be at the top of the pack. We're such a good team together, creative and efficient. It was difficult to know we had such a great shot. It was kinda hard to believe, even the next morning. We had to think about what an amazing experience it was.
Q. Gina, RealityWanted: What is next for you both?
A. Amy: We got back from the race and a whole new race started. A week before taking off for the race, we found out our organization helped to get snowboarding into the 2014 Paralympic Games for the first time. I'm one of the top ranked adapted snowboarders in the world so I started training. Our organization is also training other snowboarders for the U.S. team.

The Amazing Race airs Sundays at 8/7c on CBS.
(Image courtesy of CBS)

Follow Gina @ginascarpa