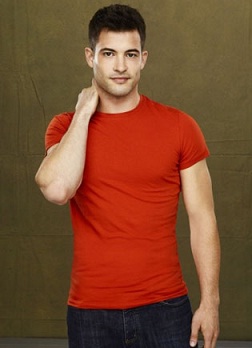 by Gina Scarpa
When Kyle Robinson moved out to Los Angeles to live with good friend Teddy Forance, as well as Nick Lazzarini and Travis Wall, he was under the impression he would join them as a founding member of the dance company Shaping Sound. As we've seen this season on All The Right Moves, that's not exactly how it went down. Instead, Kyle was asked to audition and was cast as a company member. Though he took the news hard initially, he proved himself to be valuable member and stepped up in times where the guys needed him. We caught up with Kyle today and got to know him a little better, check in on the status of his friendship with Teddy, and dig for info on upcoming episodes of All The Right Moves!
Q. Gina, RealityWanted: What were you doing before moving to L.A. for Shaping Sound and All The Right Moves? Tell us a little about your dance background as well!
A. Kyle: I grew up studying dance at The Gold School in Massachusetts. I later attended The Juilliard School for Dance and graduated with a BFA in 09. I spent a year freelancing with different modern dance companies in NYC and traveling across the country as well as internationally. In the fall of 2010 I booked West Side Story the 1st national tour with the role of "Diesel." I finished my contract in October or 2011 and moved out here to beautiful LA and I have not wanted to live anywhere else ever since.
Q. Gina, RealityWanted: Was it difficult to accept being a dancer in the company, as opposed to a founding member like the rest of the guys on the show?
A. Kyle: It was difficult to accept being a dancer in the company mostly because I had been led to believe that I would be starting this dance company with the guys, not starting as a dancer with the company.
Q. Gina, RealityWanted: Did the whole Teddy/Noelle thing hurt your friendship with him or are you guys past it? Do you fully trust him again?
A. Kyle: Throughout our years of friendship, there have always been things that Teddy says or does that just leave me shaking my head in awe. These instances run the spectrum from hilarious to inspired to "What were you thinking?" The Teddy/Noelle thing definitely fell into the "What were you thinking?" category and it was definitely the biggest breach in trust that we have had to this day. We are cool now.
Q. Gina, RealityWanted: We've seen you take acting classes and go on an audition this season so far. Are you more interested in acting or is it more that you open to any opportunity that comes your way?
A. Kyle: I'm definitely more interested in acting. I love to dance, I hope to do it for as long as I live just because I love to do it. But I have been dancing exclusively for quite some time now. I really enjoy acting as an art. There is so much information in the subtleties of human nature. I think that acting will help me step into the person that I am supposed to be by training my words and my actions on a common goal.
Q. Gina, RealityWanted: Any sneak peek at what's coming up this season?
A. Kyle: Skyscrapers...
Q. Gina, RealityWanted: Ooh, cryptic! Anything else you'd like to mention?
A. Kyle: Chantel Aguirre is one of my favorite dancers ever. It was an absolute pleasure to have the opportunity to work with her over the past year. She is so stunningly beautiful in her appearance, technique and most of all, her personality.
Check out a sneak peek of tonight's brand new episode of All The Right Moves, airing tonight at 10/9c on Oxygen:

(Image courtesy of Oxygen)

Follow Gina @ginascarpa