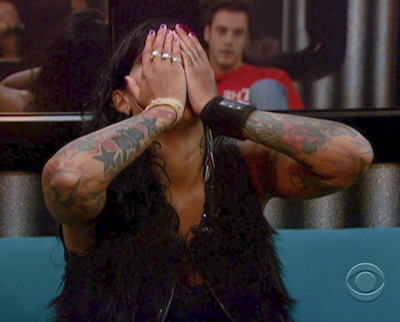 by Gina Scarpa
It's hard to believe that we're already down to the final five on Big Brother. This summer has been a whirlwind of explosive moments, shocking eliminations, and turns of events we never could have seen coming. Dan kicks off the night by whining that he wasted his HOH on getting Joe out - and he totally did! He had the opportunity to take out Ian but when he won the POV, he was hoping to take a swing at Shane but Danielle wouldn't hear of it. Nobody comes between her and her showmance!
Speaking of Danielle, she's just getting over the shock of being nominated yet again by her former coach when she has to turn off her anger to do damage control. Jenn is fired up about the way things went down with Frank and Joe leaving Thursday night and doesn't want to talk to anyone right now. She can't trust her alliance but she has no other choice other than to stick with them.  It's up to Danielle to calm her down and get her back on track.
In this week's HOH competition, the players were asked questions about specific events in the house and had to guess on which day they occurred by landing a ball into the correct slot with the correct day on it. It's not only tough to remember when things happened, but then maneuver the ball on the gameboard properly to get the right answer. For every day they're off, they'll earn a penalty point. Danielle kicks it off by earning a ton, basically knocking her out of the running and it ends up coming down to a tie between Shane and Ian. After Ian pleads with God to look for him in the Big Brother house, he pulls off a victory and enlarges that target that's been on his back for last week or so.
Up in Ian's HOH room sits Pandora's Box with the temptation of receiving a video message from a loved one. Of course, he can't resist but unfortunately for him, it's Rachel Reilly declaring her love for him and providing (very unhelpful) tips for surviving in the Big Brother house. While he's locked away, the other four actually get their messages from home which, of course, bring on the tears. Dan really breaks down at the sight of his wife Chelsea but I've now reached a point with him where I can't believe that anything he does is genuine. Sure, he misses her but he's playing up that loving husband card big time right now.
It seems like the obvious choice for Ian to nominate Dan and Jenn together. Jenn isn't in his alliance and Dan just nominated him on Thursday when they played a week's worth of the game in one night. He'd be the pawn but Dan is not cool with that so he sprays some mind mist on Ian and convinces him to put up Shane instead. I mean, if Shane goes home, that's great for Dan because he got his biggest physical threat out of the house without having to get blood on his hands, a Big Brother contestant's favorite expression.

Find out who wins the Power of Veto on Big Brother, Wednesday at 8/7c on CBS.
(Image courtesy of CBS)

Follow Gina @ginascarpa