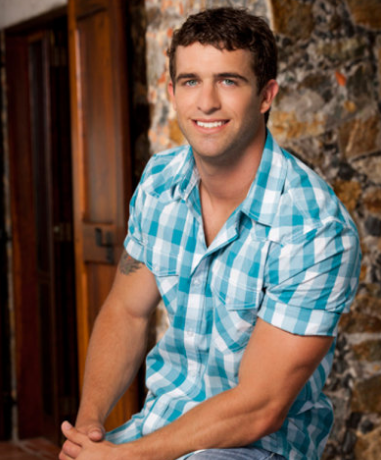 by Gina Scarpa
This season on The Real World, without a doubt, one of the most polarizing cast members is Trey. His relationship with Laura has had its ups and downs (mostly downs) since the two met in St. Thomas. Trey has also had his differences with his roommates, finding them to be immature and even a little lazy. Is it a bad edit or is that the real Trey? We found out when we talked to him today in exclusive interview about what made him audition for the show and his relationships with both Laura in the house and Chelsea back home.
Q. Gina, RealityWanted: What appealed to you about being part of The Real World?
A. Trey: I guess the thing that appealed to me was that it gives the opportunity for, lack of a better term, normal people to have the opportunity to be on television. People who appear on reality television... we didn't go to acting school, we didn't pay a lot of money to publicize ourselves. It's just regular people telling their story and I feel like I had a lot to share.
Q. Gina, RealityWanted: You probably didn't have any intention of getting involved with one of your roommates this season. What drew you to Laura?
A. Trey: When I went out there, I didn't have any expectations because I didn't know if I'd have hot roommates, ugly roommates, gay roommates... since I'm straight, if all the girls were gay, that wouldn't work. Had I known I was going to meet Laura, I probably would've just ended things with Chelsea completely rather than left the door open. That's where a lot of my drama comes from. There's this background scenario like, "What if?" If I had known I would've met Laura, I wouldn't have strung Chelsea along. Laura is different than what I'm used to. I'm from Baltimore, from the East Coast. It's a very fast paced life and Laura's from the Midwest. She has this charm about her and she's really laid back. When I'm really angry or upset or I'm stressed, Laura has that personality that balances me out and calms me down.
Q. Gina, RealityWanted: The fans are being pretty harsh on you, when it comes to your relationship with her. I told Laura last week that I felt maybe you were getting a bad edit to a degree. What do you think when you watch it back?
A. Trey: I mean, I agree with that but I can't blame it on editing completely. I don't have control of production and they can only show the footage that we give them. Marie looks better than I do but if they wanted to highlight her horrible moments, nobody would say anything. It's like, that's just the storyline they chose to go with. It's unfortunate because it doesn't accurately portray me as a person or the normal tendencies of the relationships. It was a very confusing situation and it was extreme because it was magnified since we were on tv. It kind of sucks. For people that meet me in person, they're in shock. They're like, "You're not anything like you are on the show!" I don't know. I do catch a lot of criticisms but I have really thick skin. Out of the entire cast, I can handle that a little bit better than anybody else can.
Q. Gina, RealityWanted: Later this season, Chelsea comes to visit from back home. Can you give us a little sneak peek of what we might expect from your time together with her in St. Thomas?
A. Trey: I mean, I think from the previews, you can kind of see that Chelsea and Laura look like they're going to meet. You can only imagine how extremely awkward that is. They knew about each other the entire time, right from the first week. This is the first time that they're finally meeting face to face. It's definitely an awkward situation and worth tuning in for. It's a huge twist in the storyline that you have to see.
Q. Gina, RealityWanted: You mentioned earlier that part of the reason you wanted to do the show was because you felt you had a good story to tell. Will we get to hear more about that this season?
A. Trey: Unfortunately not, and it kind of sucks because you hear me allude to it a little in the beginning about my father who was incarcerated. I think to this day, he's still in prison. I don't even know if he knows I'm on the show. I think when I was originally casting for the show, MTV was really interested in it and it's now time to air and it hasn't been shown at all. The relationships are the dramatic part and that's what brings in viewers and ratings. I'm a son, a grandson, a brother. There's so many roles in my life and it's not shown. I don't think you guys are going to see that but I haven't seen the future episodes. I have no idea. I know on numerous occasions in the house, I did talk about my father and my life back home.
Q. Gina, RealityWanted: Have you thought about speaking publicly about that?
A. Trey: Absolutely! If you guys have ever went to MTV.com and read my biography, it alludes that I've worked with a life coach in the past. I worked with a life coach who is also a motivational speaker. I met him at my college and I stayed in contact with him and he's kind of toyed with the idea of me joining him and developing a presentation. We're toying with the idea, it's not official... we're thinking of doing The Real World of Addiction. I'd go to local high schools and colleges and speak about parents who have addictions to alcohol or narcotics. Growing up, that can be really hard to find stuff around the house as a child and you don't know how to deal with it. I really want the opportunity to share my story and talk to kids who are affected by the same situation.
Q. Gina, RealityWanted: Do you think you'd be up do to a Challenge?
A. Trey: Sure, I mean that's something I get asked a lot. The Challenge is something that people are really passionate about. With me being an athlete, it's definitely something I would be interested in.
Q. Gina, RealityWanted: What do you want people to know about you that they're not getting thus far from watching you on The Real World?
A. Trey: I think what's happening is that people are only seeing one side of the relationship between Laura and I. To me, that's a little unfortunate. They're showing me jealous, angry, and yelling. Even in one of the conversations, Marie says to LaToya, "What does Trey do for Laura?" That's a great questions because they don't show what I do for Laura. They don't show us on dates, getting food, playing putt putt golf. Laura and I had a blast and she's an adult. Everyone gives her crap and says she looks like a puppy dog. She's a grown woman and if I really treated her that badly, she could've walked away at any time. The fact that she stayed around the entire time, I want people to wake up and realize I didn't treat her that bad. We'd cook dinner together and we had a really, really great time.
The Real World airs Wednesdays at 10/9c on MTV.
(Image courtesy of MTV)

Follow Gina @ginascarpa