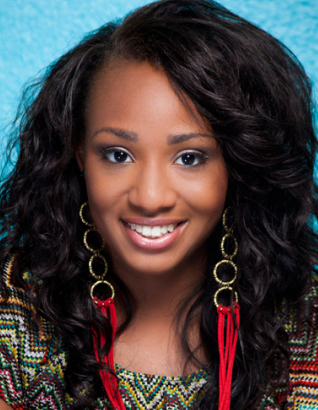 by Gina Scarpa
Don't confuse LaToya Jackson, of The Real World: St. Thomas, with the famous performer - she's hoping to become a household name herself! The former news station employee realized her heart wasn't in it and decided, on a whim, to go try out for a reality show. Boy, are we glad she did! Witty and upbeat, LaToya always entertains but also, has no problem putting people (namely, Swift) in their place when they deserve it. We talked to her today in an exclusive interview about her relationship with her roommates, the reasons she's not hooking up in St. Thomas, and what she's hoping will come next for her.
Q. Gina, RealityWanted: What made you choose The Real World as the reality television show you wanted to be on?
A. LaToya: Okay, I never really had the intention of going the whole reality tv route, even though my goal was to work in the television industry. But all my life, growing up, I've been told how funny I am and full of personality. All my friends would say, "We can see you on tv someday. The world needs to see you!" One day at work, I was working at a really boring job at a news station, I happened to run across an ad online that said there was a casting call right down the street from my job. I took the advice from everyone and found out how far my personality would take me. It's been an unexpected change of career. I wanted to be a news reporter, that's what I wanted to do. After working in news, it was boring and too cookie cutter. It wasn't gonna cut it for the rest of my life. I really enjoy this aspect of television a lot more!
Q. Gina, RealityWanted: It must have been unreal to live in St. Thomas for a few months.
A. LaToya: Oh my gosh! Looking back... every time I see things in reference to the Caribbean, I'm reminded of my life for three months and I just cannot believe it. It's raised my standards as to what beaches I'd like to visit for the summer. I'm used to the Caribbean life! It's a totally different life and everything about it is just so perfect. I've never been somewhere where the weather was perfect! Even the rainy days were perfect.
Q. Gina, RealityWanted: You definitely hit it off with Marie from the very beginning and didn't seem as close to Laura, not that you didn't like her. Was it because she was chasing Trey around?
A. LaToya: Oh yeah, most definitely! Aside from the fact that me and Marie hit it off from day one... her energy and my energy was neck and neck. Even though we're from two different areas, we had so much in common. Not to say that Laura didn't have the personality that we did, she was so stuck on Trey that she didn't have time to hang out with the other girls. You don't have a ring on your finger! If you have a ring or your man doesn't, then you are free to go out and play with whoever you want to! I wasn't there for that! So back to the question, my bond with Marie was much tighter.
Q. Gina, RealityWanted: It does seem like everyone is pairing off, yet you and Swift haven't hooked up. Why not?
A. LaToya: For one, it's not my style. Even auditioning for the show, they asked if I would hook up in the house and I was honest. I said if there was some guy that had me head over heels then maybe I wouldn't do it but they didn't adhere to my request and they didn't put that guy in the house. Me and Swift had a genuine friendship and that's all there was. I was talking to someone back at home and we kinda left on a rocky note. I was single and ready to mingle! There was nobody on the island who would suit my needs or taste. I went back home and grabbed what I left. No hooking up! Me and Swift are strictly friends - nothing more, nothing less.
Q. Gina, RealityWanted: The episodes so far portray things like you are leaving Brandon out but when I interviewed him, he said he purposely distanced himself. Is that more accurate?
A. LaToya: Oh yeah, most definitely! There were lots of times in the house that we would ask him to hang out with us. He chose not to hang out with us in the second episode and we had so much fun. He was sleeping all alone in his bed and Brandon missed out on that. Those were examples like that. Personally, he felt like he didn't fit in with us in terms of looks and attitudes. We're all seven different people and we were chosen because we were different. Nobody was alike in my opinion. For some reason he felt like the oddball and felt the need to separate himself. It sucks because he looks like the loner and we all paired up, but that wasn't the case. In reality, most of the time, me and Marie was paired up. They shoulda put me in a relationship with her!
Q. Gina, RealityWanted: There's always drama on The Real World and I was wondering how you dealt with it all.
A. LaToya: Oh my gosh! There's definitely no such thing as a season without drama. I told myself going into the show that I would be the bigger person but that is hard to do! It is hard to maintain your sanity and I'm sure any Real World cast member would agree with me. Tonight, you're gonna see a little argument over dishes. It just blows up. Our season was different because we were on an island. We can't walk down the street. There's no door to slam and you're gonna have to walk around in circles on the island. You come to that breaking point.
Q. Gina, RealityWanted: Was it hard to be away from your friends and family for that long?
A. LaToya: It was definitely hard! Around week two or three, I was missing my friends and family. Don't get me wrong. I was so stoked to get away from Virginia. I was born and raised here. Going on The Real World, I didn't care where it was going to be. I just wanted to leave. Being able to be away from home was awesome. Missing my family and friends got to me. I think it was the memories that got to me the most. I had to cook for myself and I'm not a great cook! I had to live on my own and do things on my own.
Q. Gina, RealityWanted: I like to ask each roommate this question. Without giving anything away, are you still close to your roommates?
A. LaToya: Oh yeah. Me and my roommates definitely have a close relationship. Looking from the day we first met until the day we departed each other, I can't really live with them but my life would be boring if I didn't have them in it. I'm glad I have met these six people and shared this wonderful experience. They'll forever be a part of my life, whether we stay in contact or not. It's a good relationship. We text, we Tweet, we Instagram, and it's definitely been a good ride and we're enjoying it together. I was just in New York with Robb, Marie, and Brandon and we were talking about what life has been like since we left!
Q. Gina, RealityWanted: You said you wanted to continue working in tv, just not in news. What do you want to do from here?
A. LaToya: As you said, I still wanna continue working in tv. I'm waiting on that one moment where I can get a spinoff or host a game show. I think I got a bright future ahead of me. I really do.

The Real World: St. Thomas airs Wednesdays at 10/9c on MTV.
(Image courtesy of MTV)

Follow Gina @ginascarpa