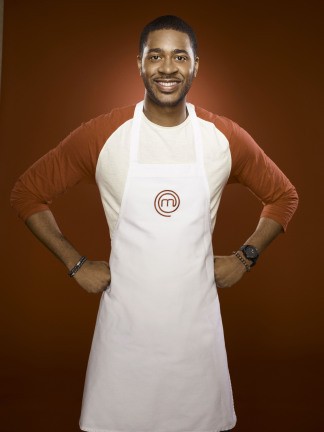 by Todd Betzold
An early favorite to be one of the finalists this season on MasterChef, Josh Marks was taken down by eggs last night in the Pressure Test and he saw his journey end. It was down to him and Becky in the bottom, which surprised me and many other people as well. Today, we got an exclusive interview with Josh as he talked about the eggs that brought him down, who should have got immunity last night in the Pressure Test and much more.
Q. Todd, RealityWanted: What made you want to try out for MasterChef?
A. Josh: I was at home in Chicago and was cooking like three different foods for my family and I was exhausted from cooking all night and my friend called me and said they were having a MasterChef audition tomorrow, you going? I had no idea about it, but I was definitely going to do everything to get there. So, I spent all night working on the application and getting pictures together. Woke up, went shopping and cooked and went up to the audition in Chicago and presented my dish. The casting director and producers liked me and they took me on and the rest is history.
Q. Todd, RealityWanted: In the Pressure Test last night, your team discussed and gave Felix immunity. You didn't seem happy with that decision. What were you thinking then?
A. Josh: I think it was b.s., from the perspective of who deserved to go. I think it was their strategy on the girls to take one of the weaker of the four and put them upstairs and try to take out one of your stronger competitors.
Q. Todd, RealityWanted: When you left, Chef Ramsay said you had anything you wanted from him, even time in his kitchen. Have you taken him up on that offer since the show ended?
A. Josh: No, not yet, but whenever I am in the area of one of Gordon's restaurants I will be calling him up and tell him I need to come and cook for him (laughs). Next time I am around any of his restaurants I am going to call him for sure. It was incredible to watch it over again. I was baffled and amazed that he would say something like that to a contestant. He never did it so far and the fact that he did it to me was overwhelming.
Q. Todd, RealityWanted: What were you thinking when it was you and Becky in the bottom two?
A. Josh: I kind of knew I was going home. I was hoping for the best, but I definitely knew I was going home. My soft-boiled egg was just bad and my omelet was subpar, as well as my poached egg and my fried egg was perfect. She had two out of four perfect and I had one out of four, so the numbers don't lie.
Q. Todd, RealityWanted: What was your favorite challenge or test this season?
A. Josh: My favorite challenge, by far, was the Food Truck Challenge. It was already my favorite challenge when I walked in and realized I could get in the food truck, I was like yes! My favorite episode would have to be the Hotel Challenge when they woke us up at 3:30. Even though we lost the team challenge and went to the Pressure Test, it was still the best episode.
Q. Todd, RealityWanted: What was it like working with all the time constraints of the challenges and food ingredients given to you?
A. Josh: It was really intense. You really had to think and move like a real chef, instead of a homecook because when you are at home, I walk around and sip a beer, going back and forth to the kitchen. This really made me hone down on my competitive skills and go back to the same thing when I was on the basketball court ready to compete to the best of my abilities and put the best thing out.
Q. Todd, RealityWanted: You picked Christine to win it all this season when you were leaving last night. Why Christine?
A. Josh: I chose Christine because she definitely is my best buddy from the show. She was one of the realists and still is one of the realists, down-to-earth kind of person I have met. She never kept up with the drama or the b.s. She was just cool and laidback and she's also a great cook, so that is the main reason why I chose her as the winner.
Q. Todd, RealityWanted: What's the biggest thing you are going to take away from this whole MasterChef experience?
A. Josh: Not taking stuff for granted. I definitely feel like I took eggs for granted. I thought it was a simple thing. I thought I needed to work on how to cook a steak to a perfect temperature. Those are some of the things I thought of going into the competition, but I definitely learned not to take things for granted.
Q. Todd, RealityWanted: Has being on MasterChef inspired you to pursue a career in cooking?
A. Josh: Most definitely. Every time I am in the kitchen now I feel like I am back in the MasterChef Kitchen. I love being around food. Hopefully my employer isn't listening (laughs), but I am thinking about food. I would love to be around it instead of being around contracts all the time.
Q. Todd, RealityWanted: Anything to add?
A. Josh: My Facebook page is JoshMarksCooks. I have a lot of recipes on there: recipes in my notes, photo albums that take you into my kitchen step-by-step. I'm also working on my website, JoshMarksCooks.com, and that's still under construction. I am hoping to put more and more stuff on there. I have some amazing things going with ice creams and sorbets this summer. Look out for that very very soon.
MasterChef airs Mondays and Tuesdays at 9/8c on FOX.
(Image courtesy of FOX)
Follow Todd @tbetzold