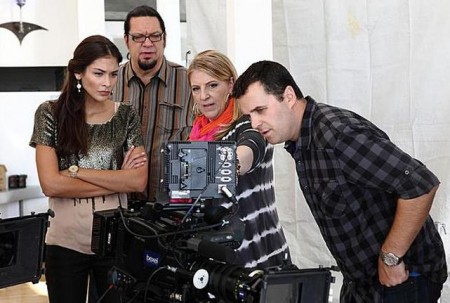 by Todd Betzold
Big muscles and a big mouth go head-to-head tonight on The Celebrity Apprentice as the teams shoot commercials for Entertainment.com.
We were left last week with Arsenio going off and Aubrey may or may not have walked off the show. Arsenio continued to yell and then Lisa got into and defending Aubrey after Arsenio called Aubrey a b@#ch and a whore...the fireworks are shooting off big to start the show. Once Lou and Dayana come back, it is even more because Lisa is pissed that Dee got fired...now her and Penn will be doing all the work and she says that to them...the teams right now are all a mess.
The next day Arsenio skypes with Magic Johnson to tell him he won his task and has won $50,000 for the Magic Johnson Foundation. Now to this week's task (and Aubrey is here): create a 60-second commercial promoting the benefits of Entertainment.com, including Entertainment.com savings membership and their mobile app. The teams will be judges on creativity, product integration and overall brand messaging. Donald asks for project managers and Dayana says she will, without discussing it. So, she is project manager for Team Forte and Teresa will be project manager for Team Unanimous. The winning team will get $60,000.
Aubrey and Arsenio talk it out before going to their team meeting and seem to work out their differences. Now to Team Forte...Penn will be leaving at 4:00 again for a show and will be back the next morning...Lisa is ticked because now it is the three of them working. They go with the love theme...from first date to proposal to honeymoon and using coupons along the whole way. For Team Unanimous, they decide to use Paul as an old man who cuts coupons and his wife and daughter (Aubrey) try and bring him into the future and use Entertainment.com. Penn chooses the two actors they should chose and Lou gets ticked because he feels him and Dayana should do it because he is an actor...oh god Lou, you have access to actors...use them.
Team Unanimous works on their script and it is becoming very dirty-sounding...Teresa is a little worried. Team Forte is shooting their video and Lisa and Dayana are getting together well, which shocks Penn. During the shoot, Lou wants a different angle to show the brand messaging, but Dayana tells him no...he keeps pushing the issue, but she keeps saying no.
Now Team Unanimous is shooting their video...Aubrey has been pretty quiet this whole task...trying to be a team player. Team Forte continues their video and it is coming along well...no issues. Dayana loves the script that Lisa and Penn wrote. It is time for Penn to go to his show, which Lou is upset about...he should be staying for his charity. Donald Jr. comes in and visits and it seems to be calm...he says Dayana has delegated most of the major tasks, so she can throw it on them if they lose.
Ivanka comes in and checks up on Team Unanimous...they tell her things are amazing among the team...no issues. Ivanka asks what they are doing and Teresa starts to explain, but Aubrey pipes in...she takes over finally. Team Forte is wrapping up their video and Dayana told Lou earlier to work on banners for the presentation, but he hadn't started them yet. They explain how to do it and pretty much Lisa and Dayana do it for him.
Arsenio and Clay run out to get started on the editing, which Teresa delegated to them. They are running low on time and they have a lot to shoot and Aubrey is worried because Teresa cannot direct. For Team Forte, Lou, Dayana and Lisa are in editing the video...Lou wants more of the logo and branding in it. He says he likes the video to Dayana and he would tell her if he didn't, but then goes to the camera and says he doesn't like it.
The rest of Team Unanimous join Arsenio and Clay, who seem to have been messing around and not editing. Aubrey wanted to change the wording from old-fashioned to old-school. They run out of time and put together the best video possible...the editing is on Clay and Arsenio if it is bad.

Time for their presentations...Team Unanimous is first and the executives seemed to laugh at it and enjoyed it at first, but it got more raunchy as it went and they seemed to lose more interest..the video was cheesy. Team Forte showed their video and it was cute. The executives liked them both, but they thought the use of old-fashioned was bad for Team Unanimous and for Team Forte they thought it was a little more boring.
Time for the boardroom...Dayana says the weakest player on the team was Lou...he's not creative. Lisa says that Dayana was strong on this task and a good project manager. The Lou goes off on Lisa for calling him a loser and then the fireworks started...Lisa doesn't back down and I love her for that. Trump then asks about Aubrey and Arsenio and they seem to still have patched things up. Teresa said the weak link on the team was no one...if they go into the boardroom she would bring all five back because everyone was great and Aubrey agreed.
Ivanka than calls out Aubrey for explaining the concept when she asked Teresa...she says she always speaks when others should be speaking and that is probably why she alienates people. They then take a look at both the videos. They question why Team Forte didn't use any of their star power in the commercial, which Lou pipes up and says he thought they should of, which Lisa says he never said it until the boardroom, which is true. Lou then says the other team's video is better, which upsets Lisa...they go at it again.
The winning team this week: Team Unanimous. So, now let's unleash Lisa on Lou even more. They question not using the star power, but they said it wouldn't work for this commercial. Dayana sends Penn back, so it is her, Lisa and Lou coming back...buh bye Lou. He says that Lisa has a negative attitude and that's bad for the team, but Ivanka says the other team's video is better isn't that a negative attitude? Lisa said to fire Lou because he brought no ideas and he turned on his team in the boardroom. Lou says to fire Dayana for being project manager. Donald says he likes the truth, but thinks loyalty is more important and Lou is fired. He asks him to take it back, but Trump says you're fired.
The Celebrity Apprentice airs Sundays at 9/8c on NBC.
(Image courtesy of NBC)
Follow Todd @tbetzold